Barrett & Co. - Photographers of Bridport
Scroll down to find out more about the property.

Click on images or Charmouth Home to return back.

William Barrett was born in 1816 at Budleigh Salterton, near Sidmouth in Devon in 1815. He first appears in the 1841 Census with his wife Frances (Fanny). Both are described as Artists. He first appears in the 1859 Post Office Directory as an Artist living at 71 South Street in Bridport. Both he and his son were to operate from this address until 1925.There is no record of The Barretts in 1851 Census as they were living in Paris, France. The record of this is their daughters being born there. Ellen was born in 1848 , but died in Paris in 1856, aged 8 years and Cecile was born there in 1852. From that evidence they were living there from at least 1848 until 1856. He may well have tried his luck in that city before returning to England and moving to Bridport. There is no entry in The Post Office Directory for Bridport in 1855, but he is listed in the 1859 edition.
The 1861 Census has his occupation as both Artist and Photographer. By then he is aged 45 and his wife Frances is aged 48. They have a daughter, Augusta, aged 17 who is shown to be a music teacher. It is Reginald who is 15 and will follow in his fathers footsteps as a Photographer. William's sisters, Angelina and Emily are living with them and are decided as Artists and Photographers. The two sisters in time set up their own Studio in The Butter Market, which was part of South Street in Lyme Regis.
The 1871 Census has both William and his son, Reginald as photographers. It is intersecting to see that his daughter, Cecile, then aged 18 was born in Paris. A decade later and they are living and operating from 71 South Street. A survey of Lodgings in Bridport shows Reginald Douglas Barrett paying 10/- a week to his father for a sitting room and work room on ground floor and a bedroom on the third floor. By 1891 William has lost his wife, Frances and is living with his son,Reginald, now aged 45. William dies in 1898 aged 79 and the business continues under the ownership of his son. In 1900 aged 54, he marries Gertrude Whiting, aged 42. She had previously been in business with her brother, William Whiting at 315 Holloway Road in London. They were to have no children and lived and worked in South Street. But by 1919 he retired and moved to 35 Dukes Avenue. He died in 1925, aged 80. It is interesting to see that shortly before he died in 1923 that Claud Hider was to open his photographic Studio in South Street, where the Barrett's had operated for over 60 years before him.
Cecile died in 1872 aged 20 in Bridport. Ellen died in 1856 in Paris aged 8.William is buried in Bridport Cemetery grave row W79.France's died in 1890 aged 81.

1861 Advertisement in The Bridport News for William Barrett`s recently opened Establishment at 71 South Street offering both Stereoscopic and normal views of Bridport, Beaminster, Netherbury, etc.

1898 Advertisement for Richard Douglas Barrett
The Photographers House and Studios today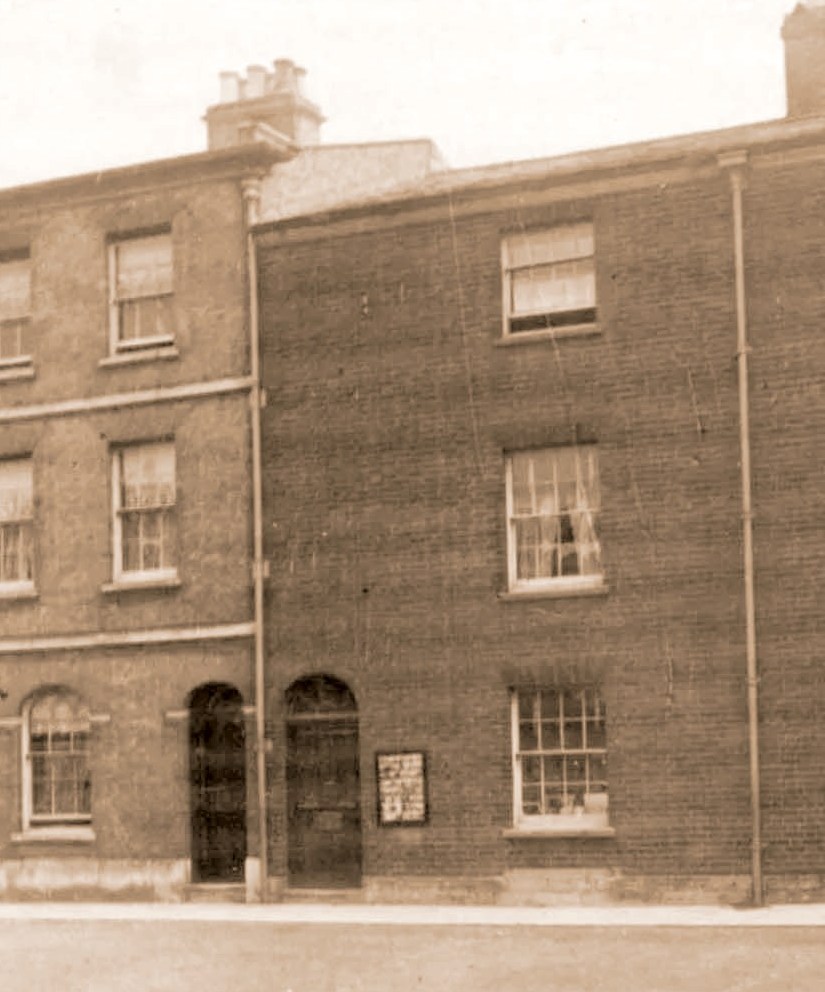 Barretts at no.71 South Street, Bridport c.1900. To publicise their services they had a framed display outside their entrance.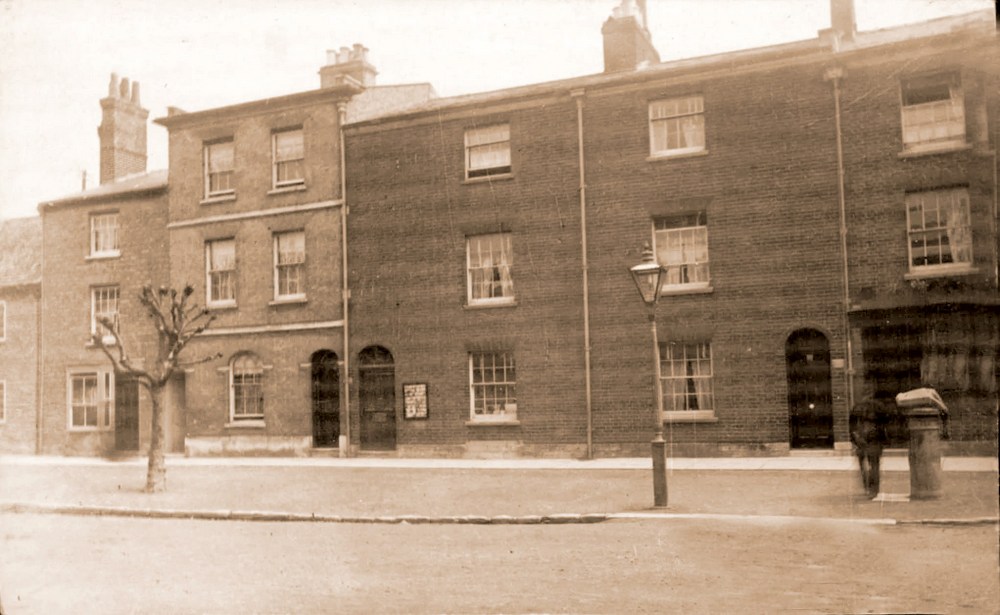 Barretts in South Street, Bridport c.1900
71 South Street, Bridport today

1841 Census shows William Barrett as an Artist, aged 25 living at Budleigh Salterton,near Sidmouth, Devon with his wife, Fanny (Frances), aged 30.
There is no record of The Barretts in 1851 Census as they were living in Paris, France. The record of this is their daughters being born there. Ellen was born in 1848 , but died in Paris in 1856, aged 8 years and Cecile was born there in 1852. From that evidence they were living there from at least 1848 until 1856.
1859 Post Office Directory Barrett William, artist, South street


1861 Census South Street Bridport - William Barrett
South Street; William; BARRETT; Head; Mar.; 45; Artist & Photographer; Devon Sidmouth; RG1368/F30
; ; Frances; BARRETT; Wife; Mar.; 48; Artists wife; Devon Budleigh Salterton; RG1368/F30
; ; Augusta; BARRETT; Daur.; ; 17; Music Teacher; Devon Budleigh Salterton; RG1368/F30
; ; Reginald; BARRETT; Son; ; 15; Scholar; Devon Budleigh Salterton; RG1368/F30
; ; Cecile; BARRETT; Daur.; ; 9; Artist's Daur.; France British Subject; RG1368/F30
; ; Angelina; BARRETT; Sister; Un.; 38; Artist & Photographer; Devon Sidmouth; RG1368/F30
; ; Emily; BARRETT; Sister; Un.; 35; Artist; Devon Sidmouth; RG1368/F30

1861 Voters List
South Street
William
BARRETT
Head
M
M
53
Photographer
DEV
Sidmouth
45
11
Reginald W
BARRETT
Son
U
M
25
Photographer
DEV
B Tatterton
45
11
Cecile
BARRETT
Dau
U
F
18
OVB
France, Paris
45
11
Emma J
NEWBERRY
Servnt
U
F
17
Servant
DOR
Bridport
45
12
1871 Census

1881 Census
1888

1891 Census showing William, a Widower, aged 72 with his son, Reginlad Douglas Barrett, aged 45 as Photographers at 71 South Street, Bridport. William Barrett died in Bridport in 1898.

1901 Census showing Reginald Barrett, aged 55 at 71 South Street in Bridport. with his wife, Gertrude aged 43. He was born in 1845 and died in 1925. He married Gertrude in 1900. In 1919, he and Getrtrude were loiving at 35 Dukes Ave in Bridport.

1911 Census Returns
On 20th April 1900, Gertrude Aspland Whiting married Reginald Douglas Barrett (born 1845, Budleigh Salterton, Devon), a professional photographer from Bridport, Dorset. On the marriage document, Gertrude gives her age as 42, and her husband Reginald Barrett is recorded on the certificate as a 54 year old "Photographer". Reginald Douglas Barrett was the son of an artist and photographer named William Barrett, who had a studio in South Street, Bridport. Reginald Barrett and his father were in business as photographers at 71 South Street, Bridport, for many years, trading under the name of Barrett & Son. Reginald Barrett took over the studio in South Street when his father died. In both the 1901 and 1911 census, Reginald and Gertrude Barrett are shown living at 71 South Street, Bridport, Dorset. No profession is given for Mrs Gertrude Barrett (Aspland Whiting), but her husband, Reginald Douglas Barrett is recorded on both census returns as a "Photographer" working "at home" on his "own account". However, given her long experience in photography, it is likely that Gertrude assisted her husband in his studio.It appears that the Aspland Whiting studio at 314 Holloway Road was in business from about 1895 until around 1900. The studio might have closed after Gertrude Aspland Whiting left North London to live with her new husband in Bridport, Dorset. William Aspland Whiting remained in North London after his sister Gertrude's departure. At the time of the 1901 census.
Misses Barrett of Butter Market (photographic artists) of Lyme Regis.
The 1867 Directory gives their initials as A & E. It seems very likely that they are related to William Barrett, photographer, of Bridport in the same Directory. He had been advertising as a photographer in the Bridport News from August 1859 but is not in the 1859 Directory. The 1871 census has 'Angelina Barrett aged 41, single, photographer, born Sidmouth, Devon' head of household living with Emily her sister aged 49 also a photographer born Sidmouth and Augusta her niece aged 27, teacher of music. In 1881 they are still there - Angelina then 51, still a photographer, living with Augusta her niece, teacher of music, and with a boarder (a 34 year old woman teacher). This must have been a very new type of household for Lyme - professional women living together. There are no servants listed in the household in 1871 or 1881.

1870 Carte de Viste back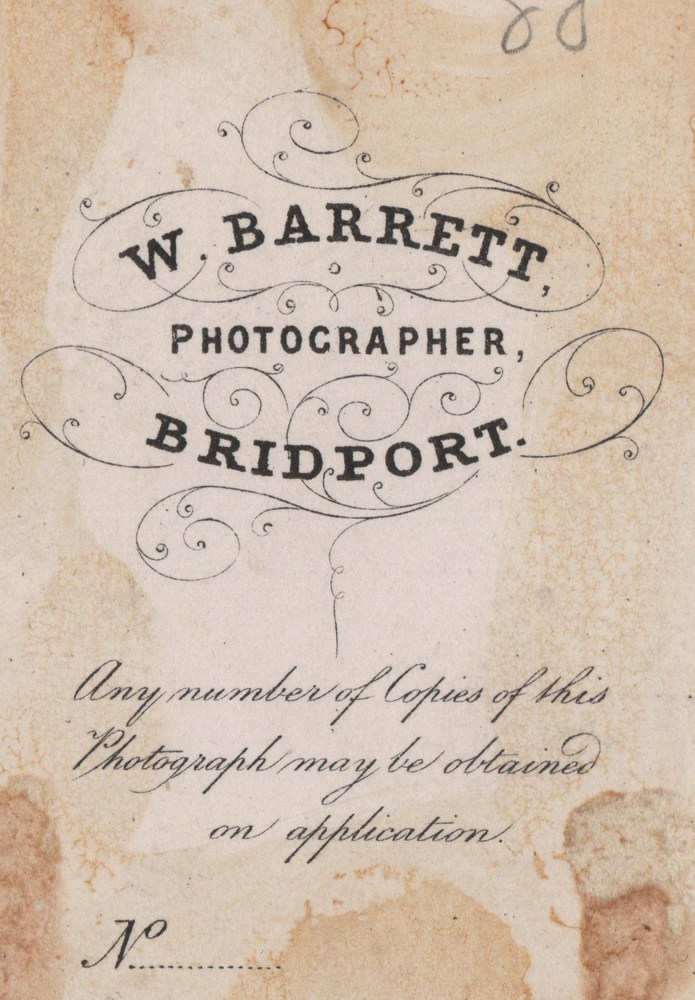 1870 Carte de Viste back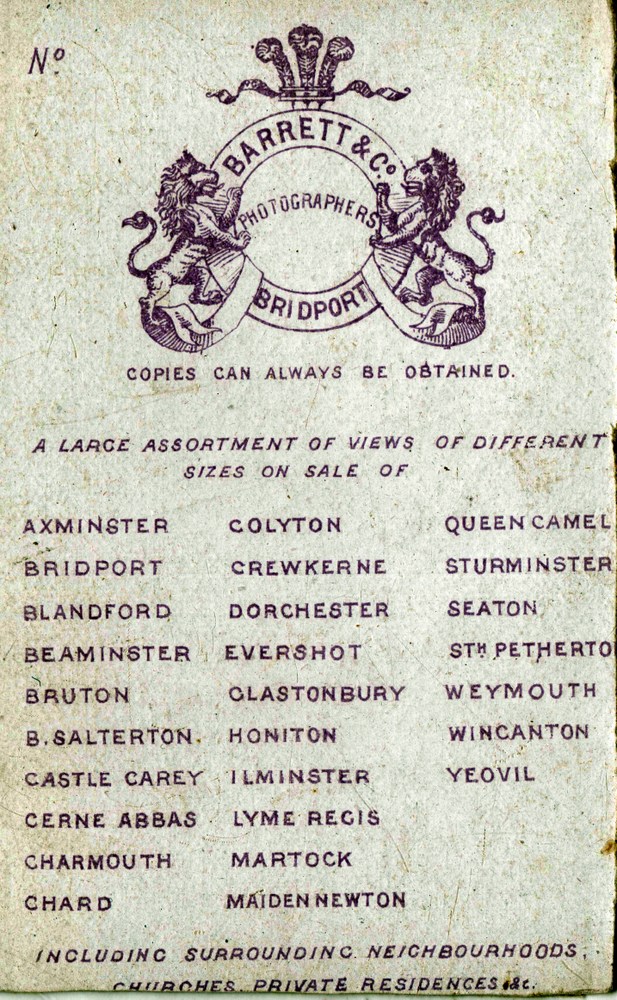 1870 Carte de Viste back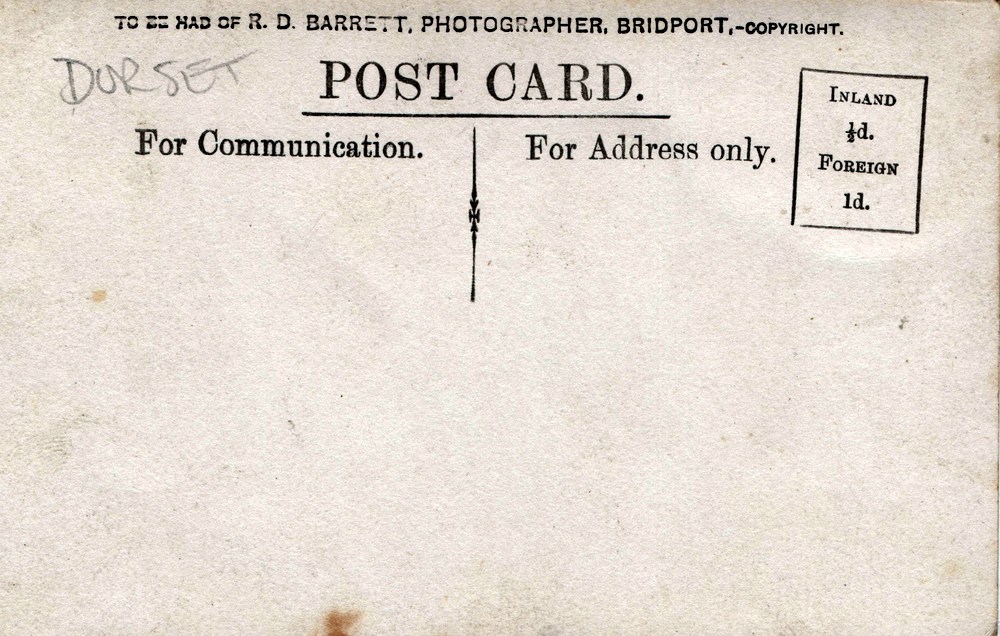 Reverse of a 1905 Post Card with Reginald Douglas Barrett at South Street in Bridport.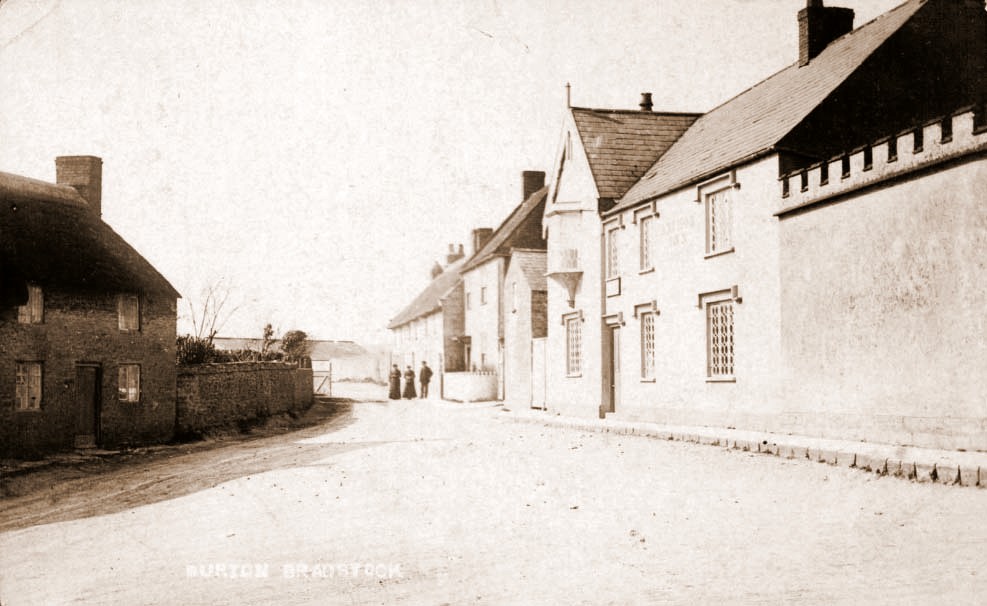 Burton Bradstock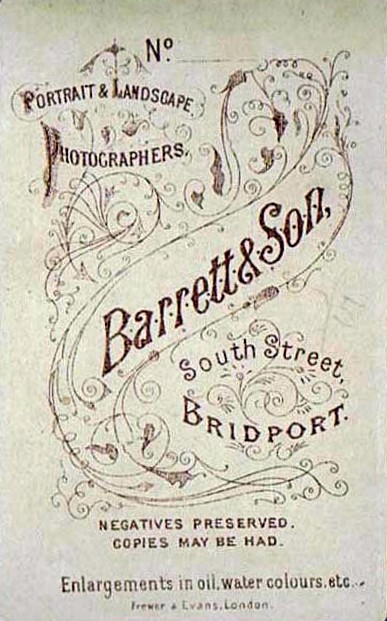 Back of Carde de Visite of 1870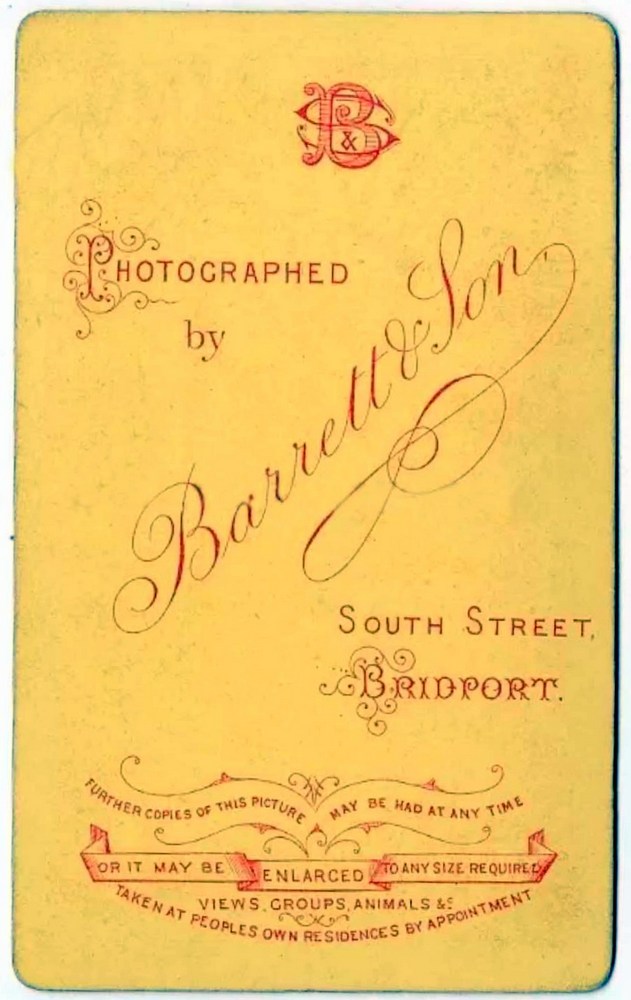 Back of Carte de Visite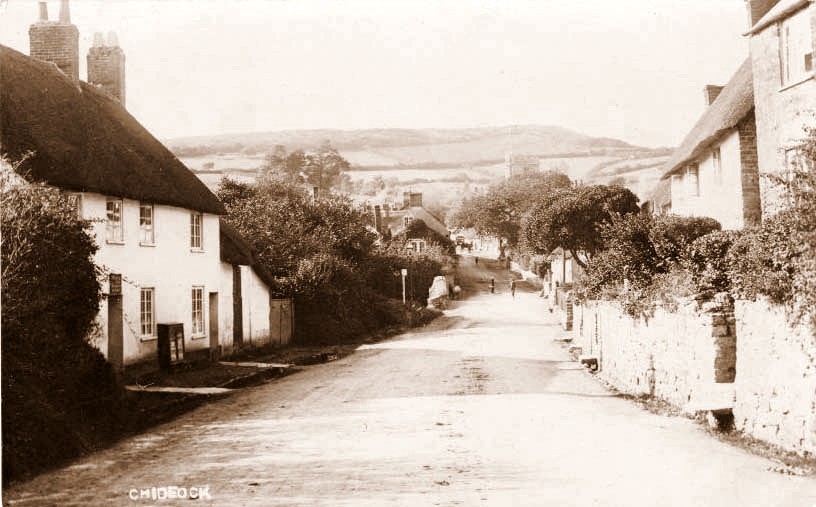 Chideock c.1903 by Reginald Barrett.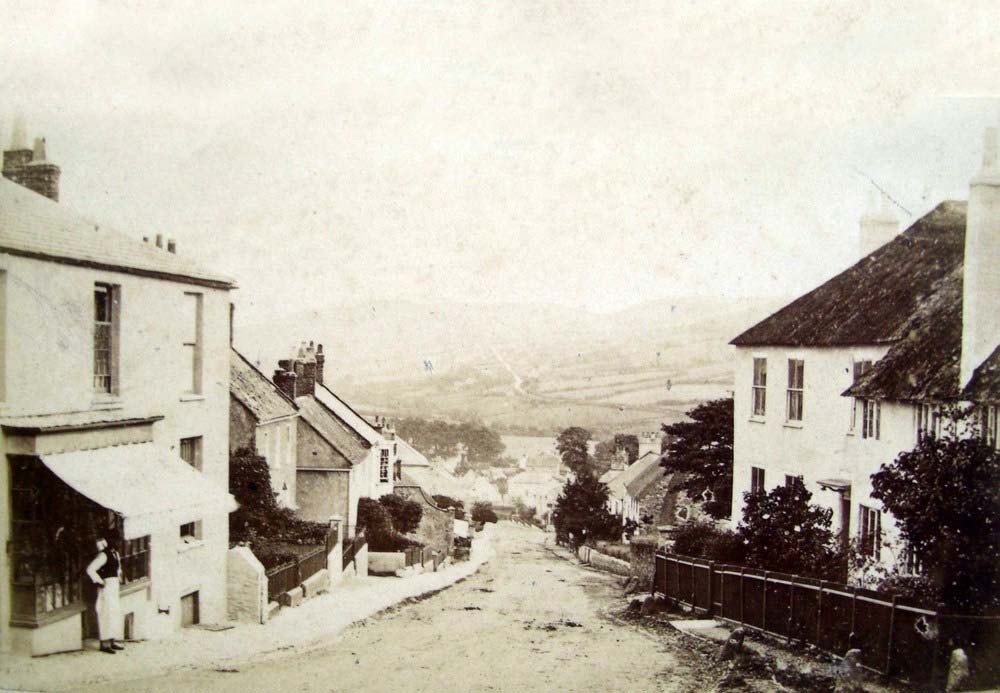 Mr Wilson stands in the doorway of his General Stores in "Portland House". Opposite is the ancient "Charmouth House", formerly The Fountain Inn dating back to the 15th century.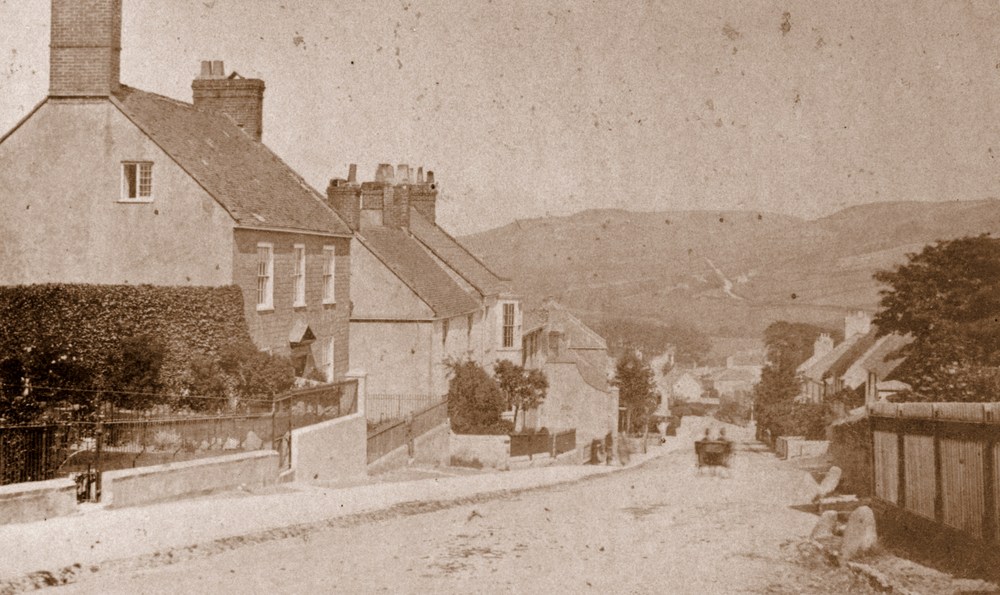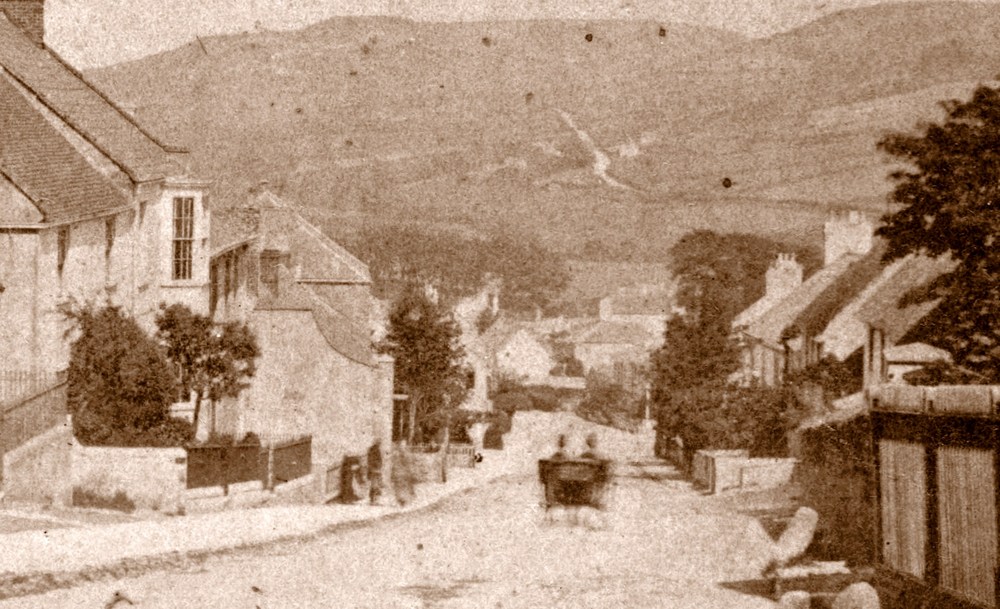 A view c.1868 of the garden on the left of Dolphin House. In the centre, can be seen the former Almshouse which was demolished when The Court was built.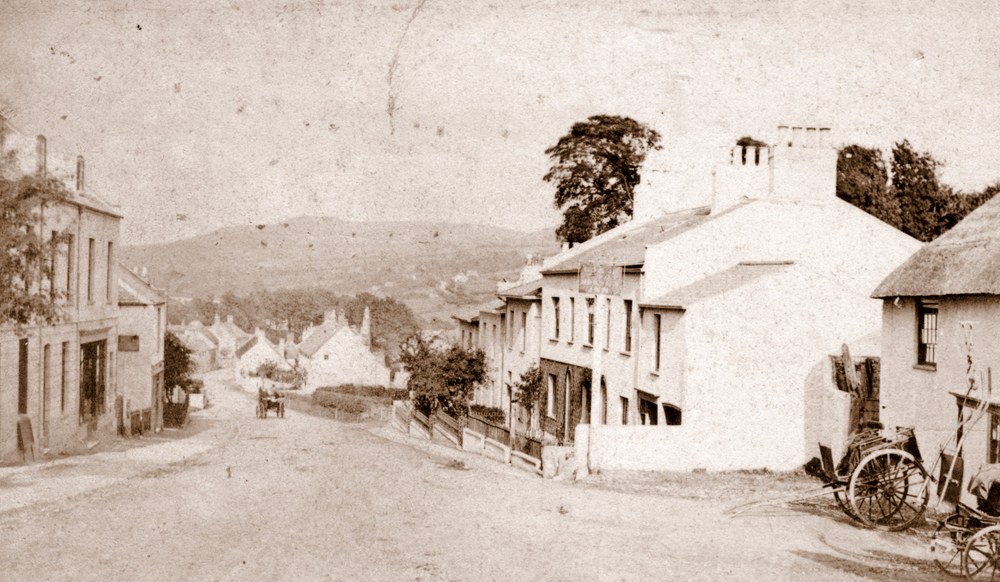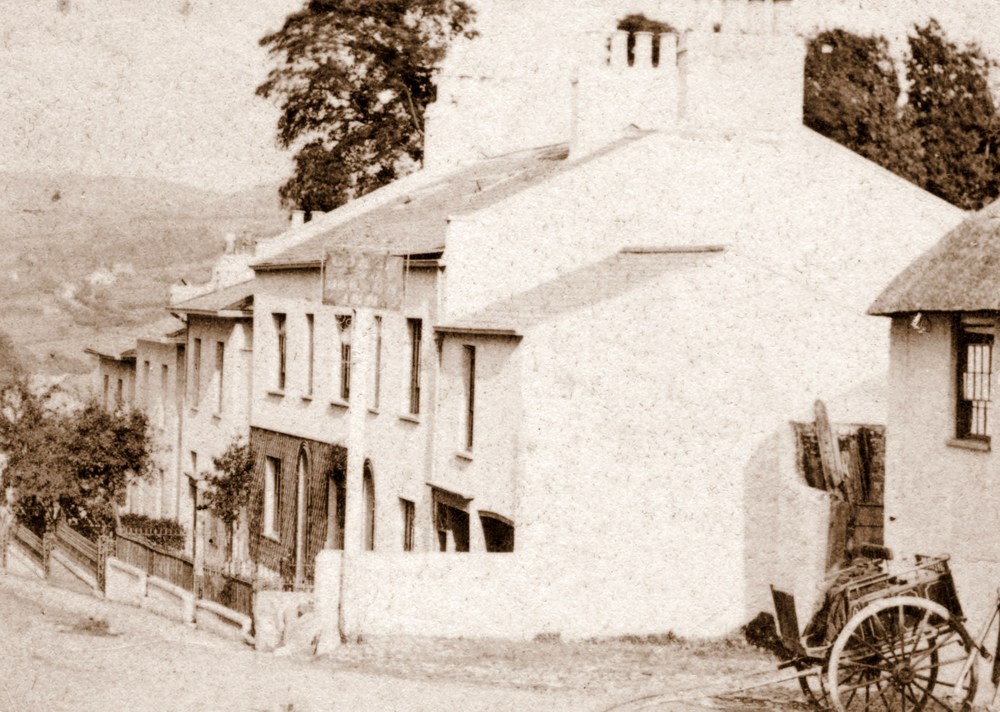 On the left is Charmouth Stores, which is still a thriving Grocers as it was shortly after being rebuilt in 1864 after a devastating fire destroyed part of the building. On the right is the former ancient Coach and Horses destroyed in 1898 after a fire. Next to it was a Butchers run for many years by the Hodges family.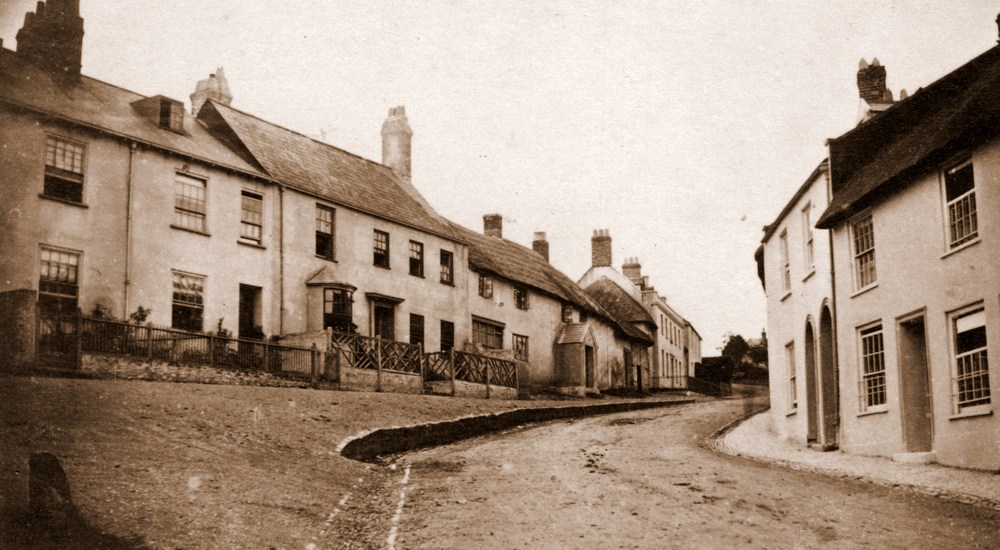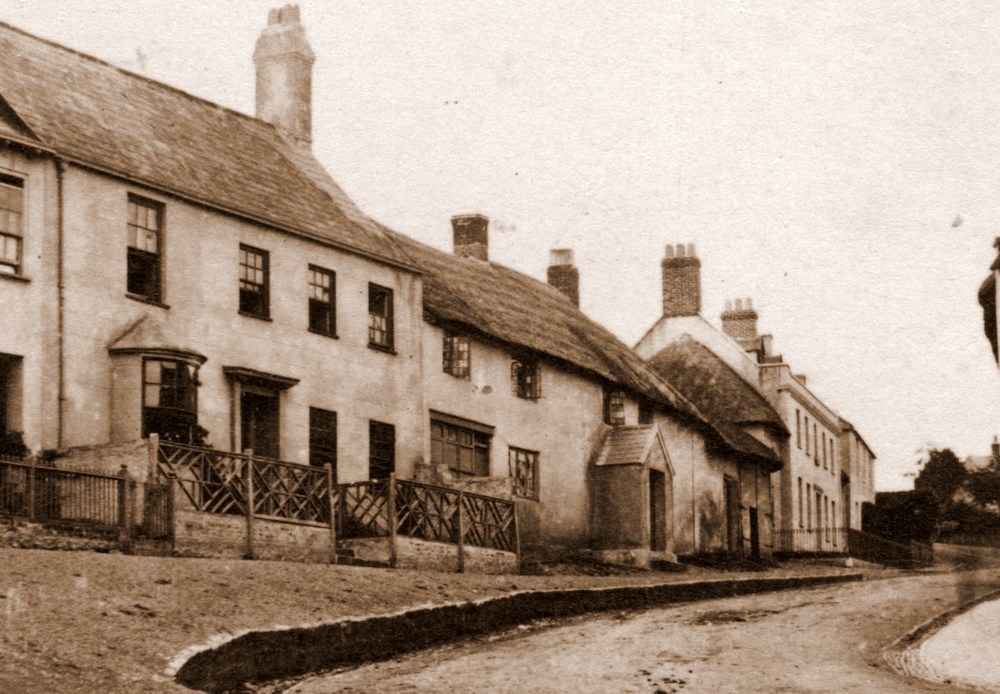 A view of the top of The Street c.1870 showing Claremont House in the centre with its bow window where a toll keeper would keep an eye out for coaches which would be stopped by a large gate and would pay a fee for the use of that stretch of the road.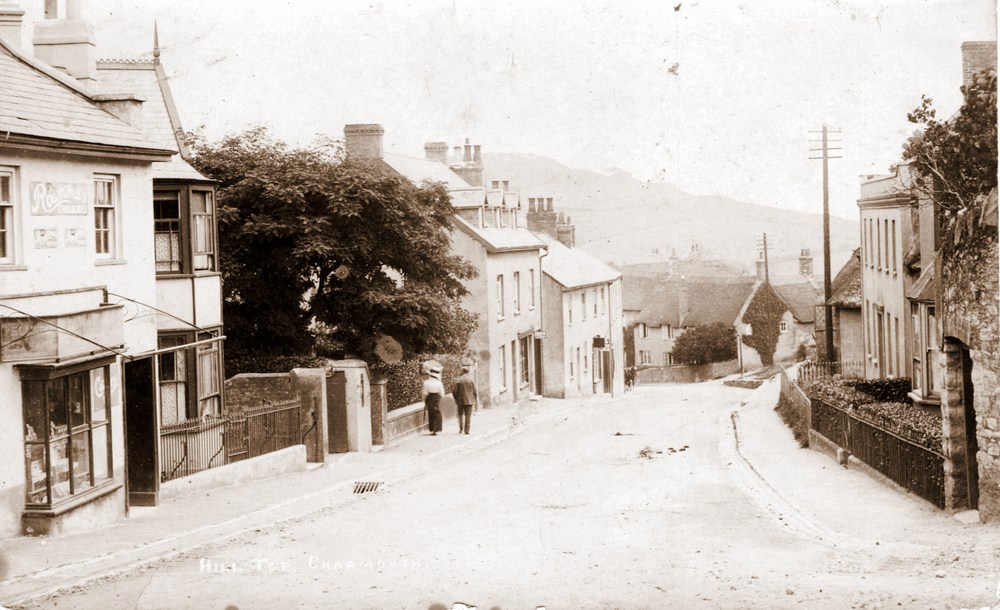 The top of The Street in 1903 when it had number of shops, which have since disappeared. A Confectioners is seen here in what is today "The Holt". Lower down is the wall of "Askew House" at that time where the village doctor lived. In the distance is the ivy clad "Charmouth House".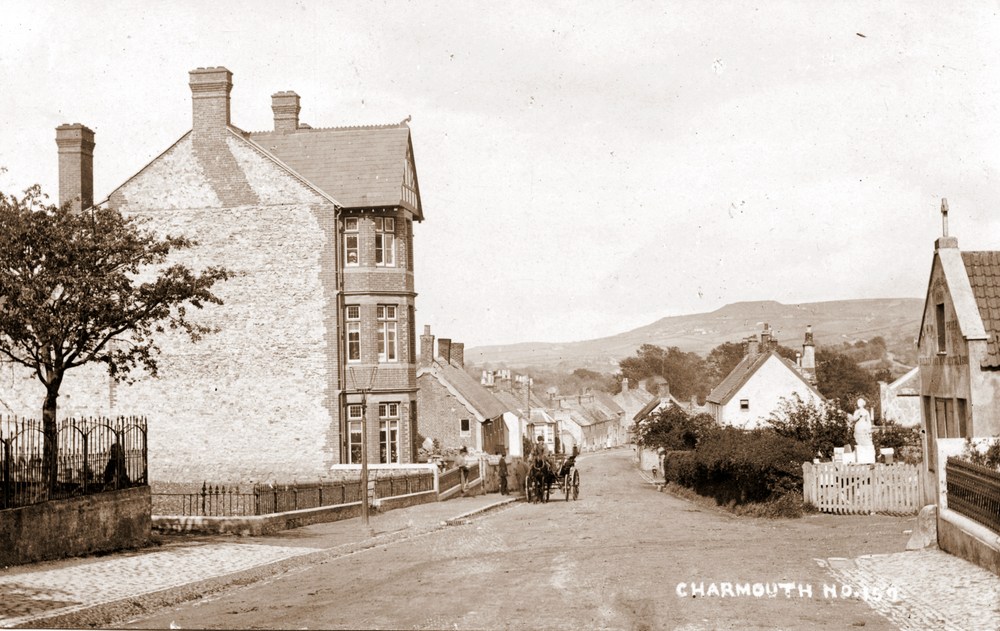 The towering building on the left is Sunnyside, which is known as Devonedge today. It was built by Francis Cole after the former property and its neighbours were lost in a fire in 1895. It was not until 1932 that the arcade of shops was built in the vacant area on the left. Opposite can be seen the workshops and yard of Harry Pryer, a Builder and Stone mason, which is now a group of shops.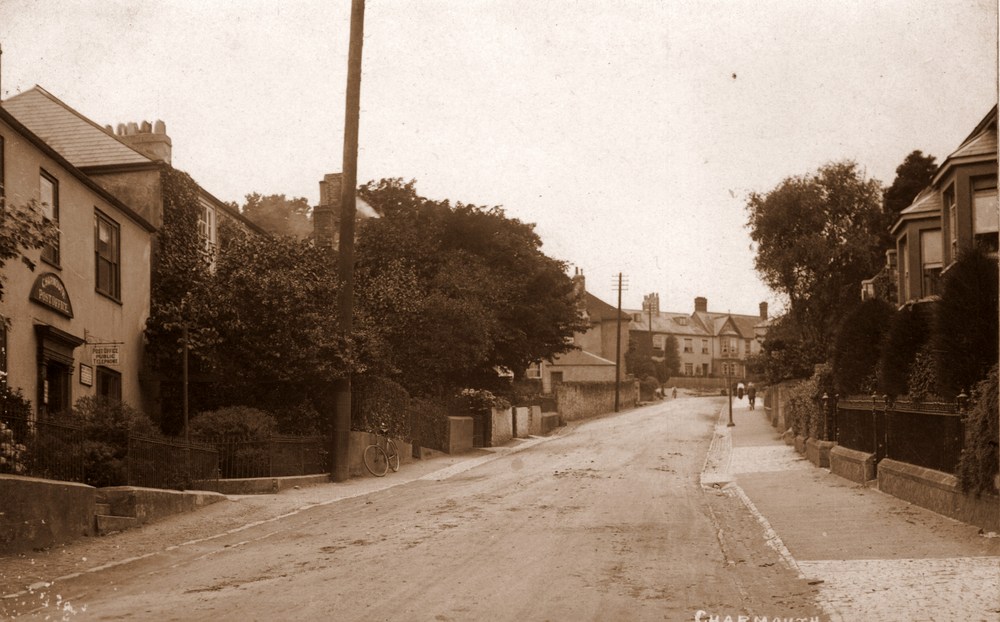 A view c.1903 looking up The Street with the village Post Office, then run by William Holly on the left.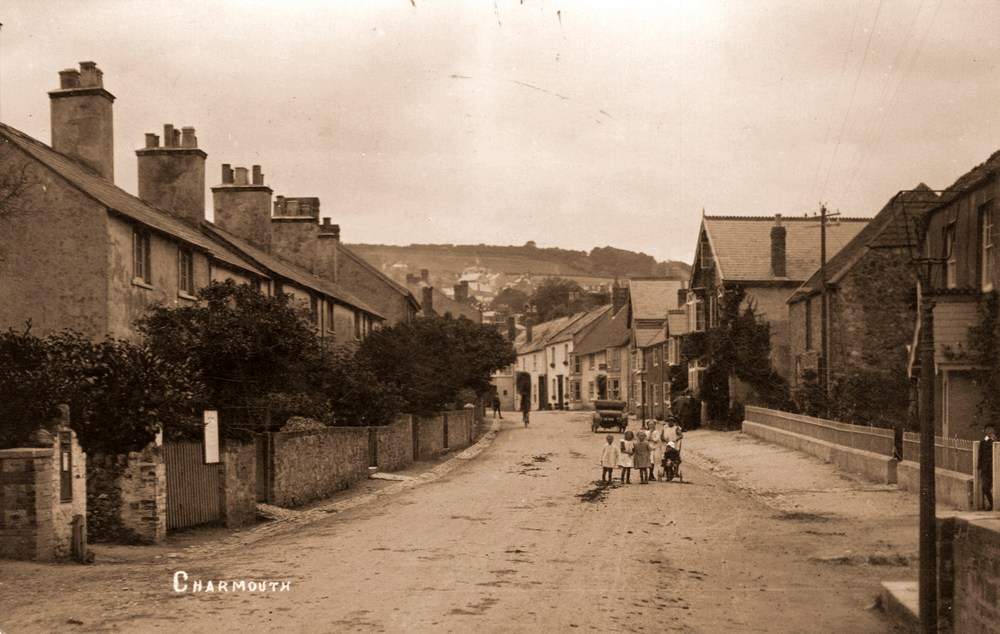 This is one of the few photographs taken of the bottom part of Charmouth. On the left is the group of houses called Mill View. The large building in the centre right is the former Drill Hall, now called Firlands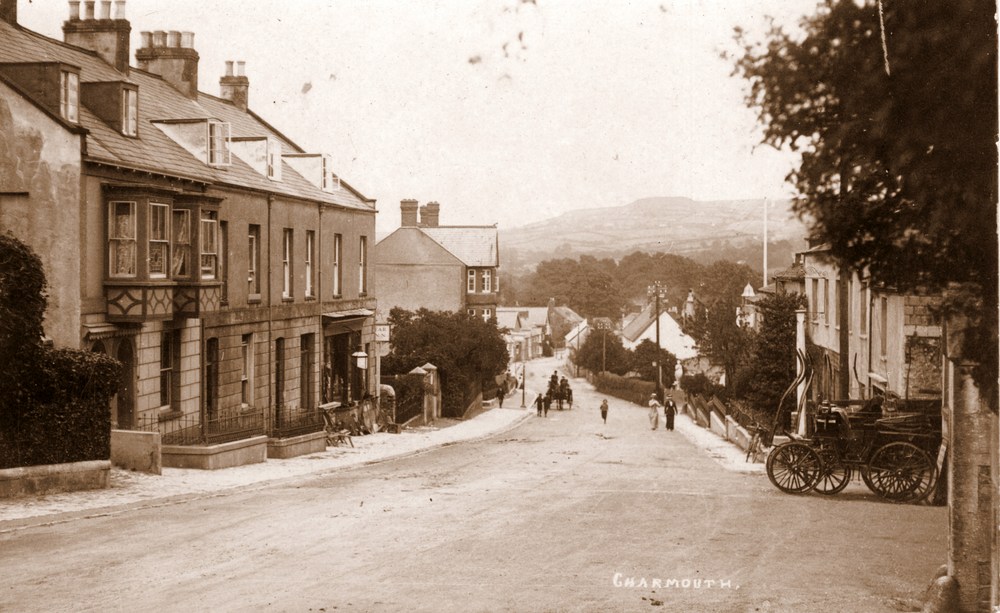 The same view as above in 1870 taken by William`s son, Reginald 30 years later as a Postcard. The towering building is the rebuilt Coach and Horses on the site of the former Hostelry destroyed in a fire.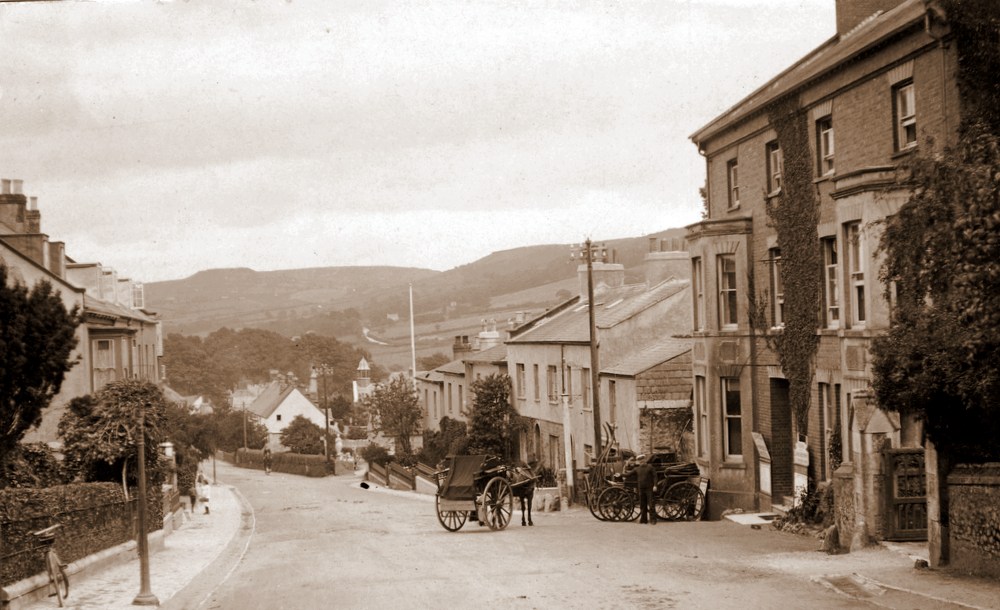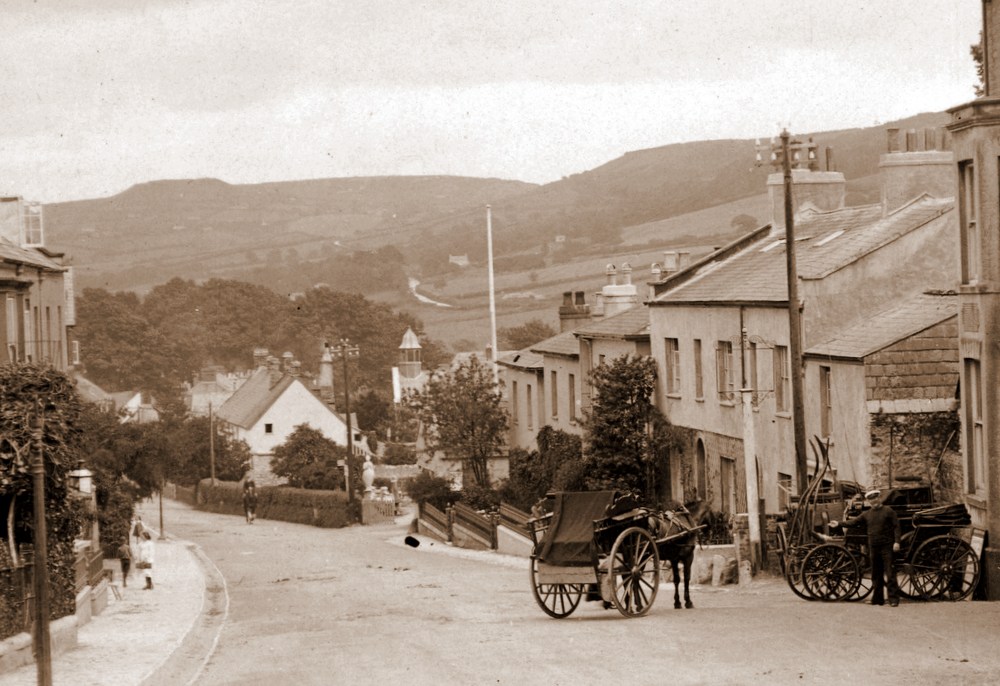 Charmouth c.1900 The Coach and Horses after it was rebuilt in 1895.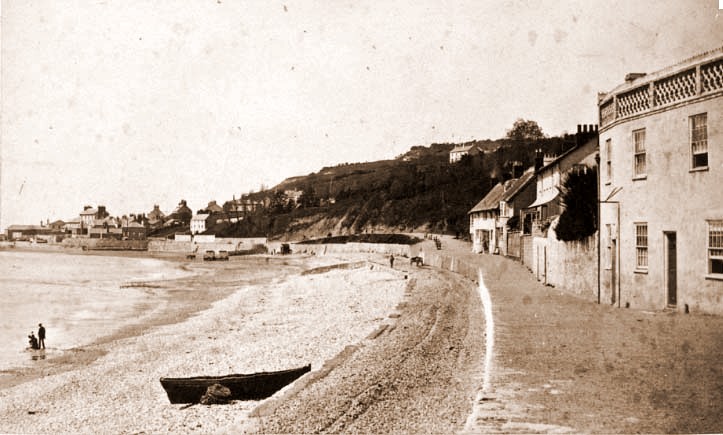 Lyme Regis c.1870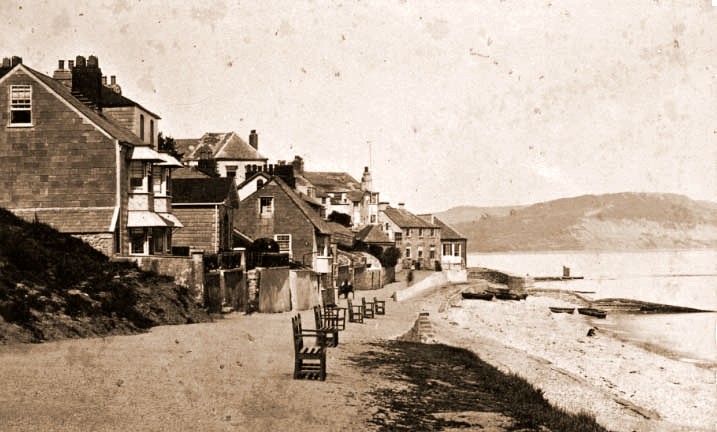 Lyme Regis c.1870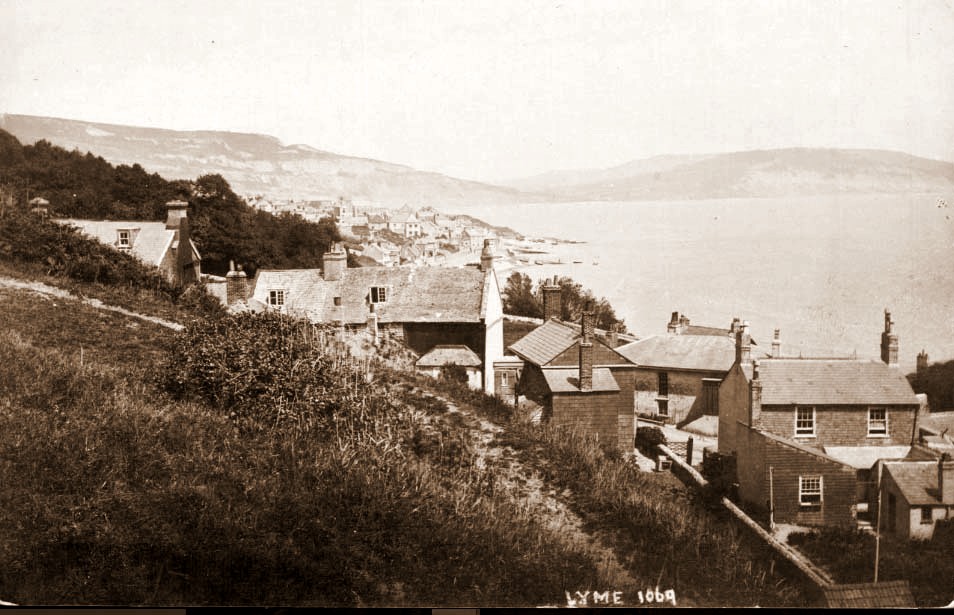 Lyme Regis c.1900
Melbury House, near Evershott, Dorset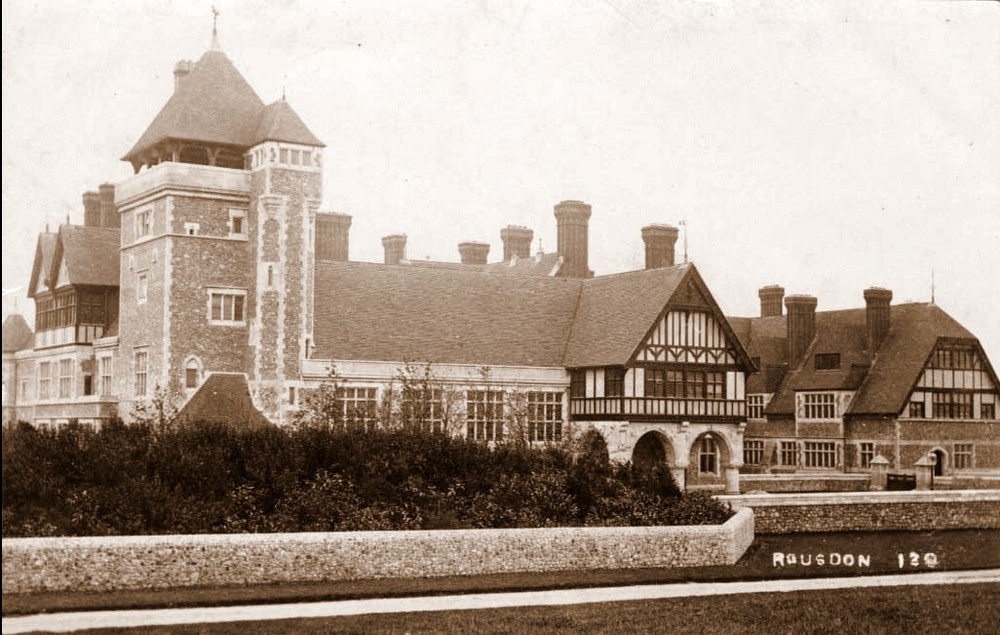 Rousdon House, Near Lyme Regis, Dorset
Bridport
Toller
Shipton Gordge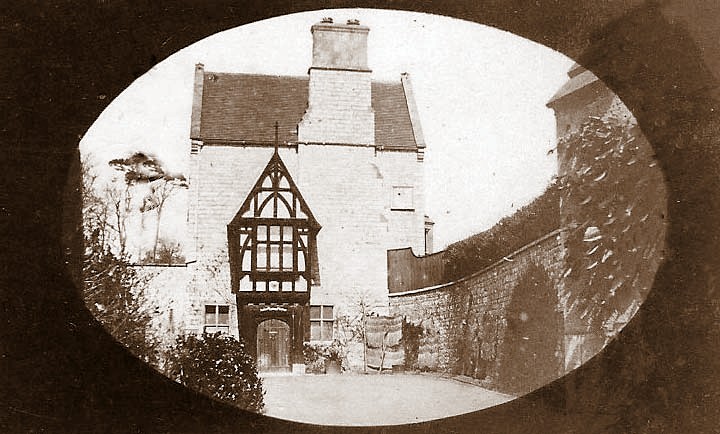 Coram Court, Lyme Regis by William Barrett, South Street, Bridport Photographer, Carte de Visite 1870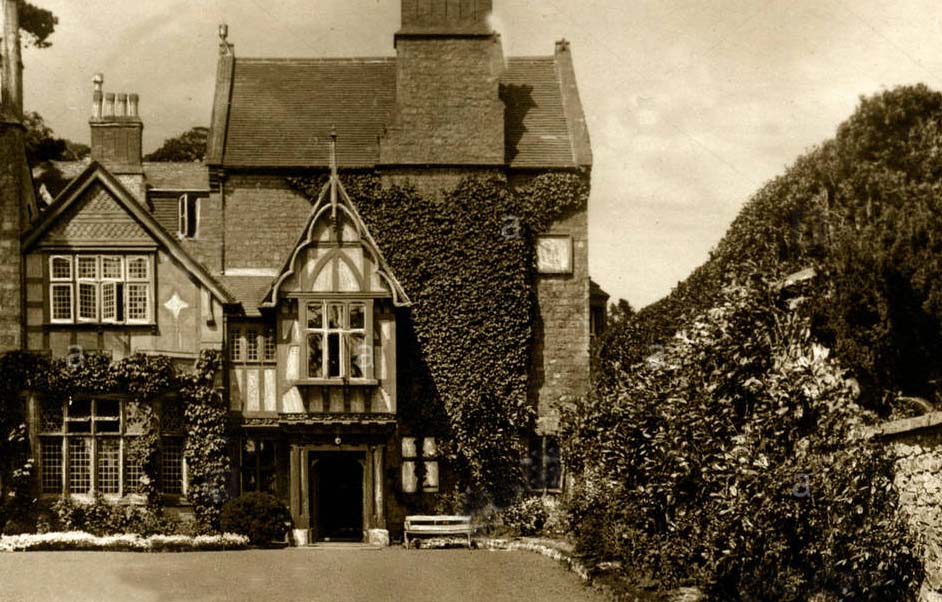 Coram Court, Lyme Regis c.1920