(4) Wesleyan Methodist Chapel, Coppice Hill, Bradford on Avon
This Chapel was opened in 1818. By the 1950`s the congregation was not large enough to maintain the Chapel and had to give up using it.In 1974 the joined the United Reform Church at St. Margarets Hill. The old chapel was sold to an adjoining owner who turned it into private Swimming Pool.
The entrance to the chapel today at the top of Coppice Hill.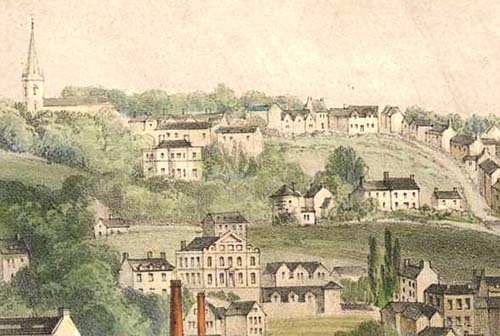 The Weslyan Methodist Chapel can be seen in the foreground of this painting by Mrs. Elizabeth Tackle c.1850
The Weslyan Methodist Chapel painted by Mrs. Elizabeth Tackle c.1850
1837 Map of Town showing no. 585 as the Methodists Church