The Alderwick Family
Records of Marriages at Holy Trinity Church for the Alderwicke`s

Henry marriesMary Beazer 1628
Mary marries Robert Langford 1637
Richard marries Alice Rogers 1664
William marries Rebecca Shrapnell 1666
Henry marries Anne Cottle 1680
Sarah marries Richard Dicke 1681
Mary marries John Wickham 1689
Mary marries Robert Smith 1692
Robert marries Anne Prior 1700
Anne marries Thomas Melium 1702
extract from 1680 Henry Shrapnell`s Will(Wiltshire Record Office)
I give unto my daughter Mary Deverell the wife of Anthony Deverell one shilling. I give unto the four children of my daughter Rebecca Alderwicke the sums of five shillings a year of good money. I give unto my daughter Edith Hodges, wife of John Hodges one shilling. I give unto my daughter Alice Marvin, wife of Robert Marvin one shilling And my will so that forty shillings which there fore Robert Marvin. See Shrapnell Family Tree
A Marriage settlement for the wedding of Zaccariah Shrapnell to Elizabeth Minifree in 1724 (W.R.O. 212b - 489)
six several messuages or tenements and premises with their appurtenances there to belonging situate and being in a street or place called St. Margaret`s Street and Morgans Hill in Bradford aforesaid and now or lately were in the Tenure or occupation of the said John Bailward, Anthony Sims, Sarah Hopkins, James Morris, Robert Deverall, and Elianor Alderwick,
212B/461 - date: 1637 March 27
[from Scope and Content] (1) Alderwick, Robert, weaver, of Broughton, and Margaret his wife.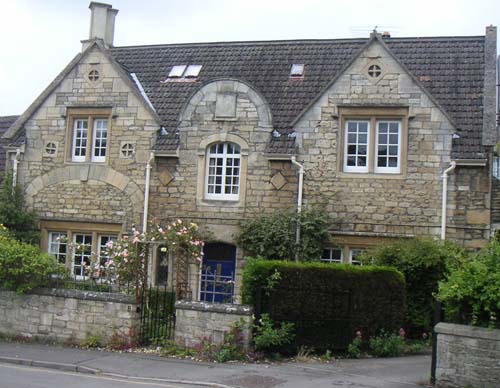 Morgans Lodge was rebuilt by John Moulton who had purchased a block of buildings and land(tithe nos. 481 482 483 and part 458) from Emily Fricker and Sarah Agnes Fricker on the 25th March 1914. The building was the original Chaise House mentioned in the Will of Zachariah Shrapnell III:
" ...all that Messuage or Mansion House wherein I now Dwell situate and being in St. Margaret's Street in Bradford aforesaid together with the offices, Garden, Paddock, Stable, Chaise House and appurtenances hereunto belonging and near adjoining". In the centre is a tablet of stone recording the ownership of William Alderwicke in 1696.
William Alderwicke had carved his initials above the central window (W.B.A. 1696).
Morgan`s Lodge in the 1960`s before the extension of the Front Garden
Morgan`s Lodge in the 1960`s showing how it was originally part of a terrace of houses which included the entrance to No Where Lane.
Shrapnell v Wastfield 1753 P.R.O.(C12/813/33)

To Lord Hardwicke, High Lord Chancellor, Zachariah Shrapnell, Clothier and Grace Taplin of Bradford, Widow, creditors to John Wastfield, late of Bradford, Clothier, Deceased in 1726 indebted to Shrapnell for £40 delver Bond for 1741 and other bopnds, died in 1746 Principle sum and Interest out standing unpaid. Also indebted to Jane Strawbridge of Bradford, Widow, sum of £100 borrowed 1733 granted her 3 tenements in occupation of James Hoale, John Alderwick and William Isaac situated in Bradford for term of 900 years (the said Wastfield being taken then in titled to the same premises for the remainder of the 1,000 years). Also indebted to John Pitman - merchant taylor as executor of Sarah Grant , deceased Bond dated 1738, sum of £400 to John Wastfield. He had substantial wealth according to his trade and business of a Clothier - several freehold messuages at or near Bradford, Wingfield and elsewhere in Wiltshire. Of considerable yearly value. He made his will in 1736 left to his brother Joseph in the city of Bristol Subsequent Will to his father and mother to distribute between his brothers and sisters died without issue and unmarried leaving his nephew John Wastfield (eldest and only son of the eldest Brother Job wastfiled, Deceased.) William Wastfield said Testators father died in lifetime of testator and Alice Wastfield his Widow Joseph Wastfield has possessed himself of all the personal estate of John Wastfield without paying any debts said Joseph with his nephew John.
Source : MLB (Bishops' Marriage Bonds)
Man's Surname : ALDERWICK
Man's Forename : JAMES
Man's Occupation : BROADWEAVER
Man's Place of Abode : BRADFORD
Woman's Surname : GOFF
Woman's Forename : SARAH
Woman's Place of Abode : BRADFORD
Woman's Status : SP
Bondsman 1 : BOND ROBERT, BRADFORD
Marriage Details : BROUGHTON GIFFORD/BRADFORD, AUG 2 1741

Source : MLB (Bishops' Marriage Bonds)
Man's Surname : ALDERWICK
Man's Forename : THOMAS
Man's Occupation : CLOTHWKR
Man's Place of Abode : BRADFORD, WILTS
Man's Notes : 2 BONDS, 1ST DATE 20 SEP
Woman's Surname : ROBERTS
Woman's Forename : ELEANOR
Woman's Place of Abode : BRADFORD, WILTS
Bondsman 1 : COOPER MESHEAC,SCRIBLER,BRADFORD
Bondsman 2 : COOPER JOHN,SHOEMKR,BRADFORD
Marriage Details : OCT 20 1719
Will of William Alderwick 1679 (P.R.O.)