The Bailward Family
John Bailward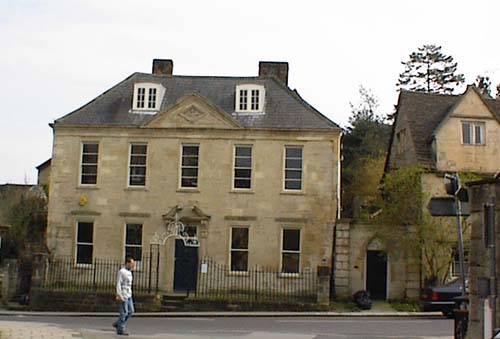 is described as a Kinsman (relation) of Zachariah Shrapnell in his Will. The 1723 Marriage Settlement between Zacahriah Shrapnell(1694-1761) and Elizabeth Minifree of Staplegrove show that John was renting the house above (5, St. Margarets Street) from the Shrapnells in that year, whilst they were living at Midway Manor in Wingfield. In 1739 John Wesley preaches at Bearfield and afterwards has a meal with Mrs Bailward who may well have been living in this house at the time.
Will of John Bailward 1743
I John Bailward of Bradford in the county of Wilts. Gentleman being sound what indisposed in Body in thorough the mercy of God of sound and disposing mind … make this last will and Testament …..give to my dear and loving wife Constance Bailward the use of all my Household Goods, Plate and Linen of what nature or kind,.. to hold to her and during the term of her natural life and after I give the same to my only son John Bailward. I give to my well beloved friend Trueman Hardford (?) … and Ezekial Dickenson in the parish of Corsham Gentleman, all my messuages and tenements and hereditaments in Bradford in trust for my said son John Bailward ,…my late dear sister Ann Reasons children and my late sister Sarah Perlus children and John Burroughs , son of John Burroughs of Southampton, Salter …
in the presence of Zachariah Shrapnell, William Harris, Sarah Salter. Proved 1743
Shrapnell v Wastfield 1757 P.R.O.(C12/815/22)
At the house of Richard Taylor, the Swan, Bradford issued by the High Court of Chancery to us Samuel Purlowe, John Hicks & Thomas Skurray, Gentlemen and others named directed for witnesses on behalf of Zachariah Shrapnell and another Complainant on the part of John Wastfield, John Pitman, William Crabb, Frances Wastfield, William Wastfield, and Ebenezer Wastfield. Thomas Derrett and Elizabeth, his wife, William Palmer and Mary, his wife and John Strawbridge, Defendants. Commissioners of the first taken by Samuel Purlevant, Thomas Skurray and John Hicks, Clerks oath being taken by James Erwood.
Henry Mattock of Bristol. Cooper - 49 years
Hath known Frances Wastfield and William Wastfield for many years contains last will & testament of the said John Wastfield, the Uncle deceased confirms he and Zachariah Hughes and John Cavelier were witnesses.
Daniel Clutterbuck of Bradford, Gentleman aged 42 years
that he and Thomas Harris were witnesses to the Will
John Bailward of Bradford, Clothier aged 42 years.
The Letter that he very well knew John Bailward and Sarah Marven in the Interrogatory mentioned and both of them long since dead and was acquainted with the hand writing of John Bailward deceased and John Wastfield.
Source : MLB (Bishops' Marriage Bonds)Man's Surname : BAILWARD
Man's Forename : SAMUEL
Man's Age : 28
Man's Occupation : CLOTHIER
Man's Place of Abode : BRADFORD, WILTS
Man's Status : BAC
Woman's Surname : STEVENS
Woman's Forename : ANNA MARIA
Woman's Age : 20
Woman's Place of Abode : BRADFORD, WILTS
Woman's Status : SP
Woman's Notes : FATHER'S CONSENT
Bondsman 1 : CLUTTERBUCK DANIEL,GENT,BRADFORD
Marriage Details : APR 29 1779
Source : MLB (Bishops' Marriage Bonds)
Man's Surname : BASKERVILE
Man's Forename : THOMAS
Man's Occupation : GENT
Man's Place of Abode : BRADFORD, WILTS
Man's Status : BAC
Woman's Surname : DIKE
Woman's Forename : ANN
Woman's Place of Abode : BRADFORD, WILTS
Woman's Status : SP
Bondsman 1 : BAILWARD JOHN JUN,GENT,BRADFORD
Marriage Details : BRADFORD/WHADDON,WILTS, APR 17 1741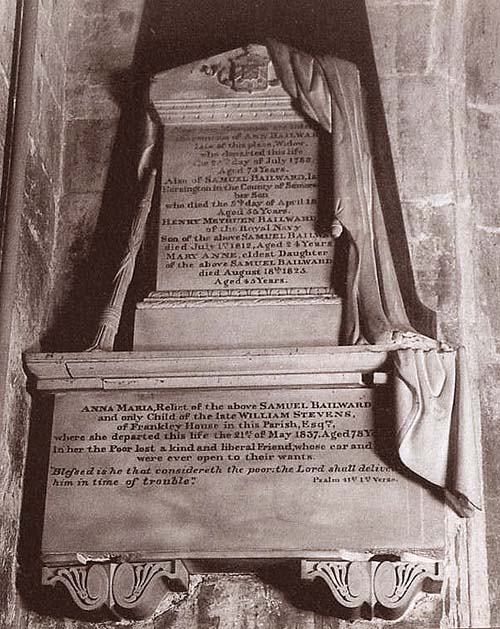 This wall monument is located in the extreme west corner of the north aisle. This was probably not its original position. The two tablets are of white marble mounted on a black base. The upper tablet is surmounted by a pediment bearing the arms of Bailward/Stevens, and draped with cloth-like folds.
The lower tablet may be a later addition. The upper tablet reads:

Near this Monument are interred the remains of Ann Bailward, late of this place. Widow, who departed this life On 25lh day of July 1788 Aged
75 years.
Also of SAMUEL BAILWARD, late of Hornington in the County of Somerset, her son, who died on the 9"' April 1800 Aged 33 YEARS,
HENRY METHUEN BAILWARD of the Royal Navy,
Son of the above SAMUEL BAILWARD died July I"11812, Aged 24 years,
MARY ANNE, eldest Daughter of the above SAMUEL BAILWARD died
August 18"', 1823, Aged 45 years,

The lower tablet reads:
Anna Maria, Relict of the above SAMUEL BAILWARD, and only Child of the late WILLIAM STEVENS, of Frankley House in this Parish, Esqre
where she departed this life the 21" of May 1837, Aged 78 Years. In her the Poor lost a kind and liberal Friend, whose ear and hand were
ever open to their wants.
Blessed is he that consideretlt the poor: the Lord shall deliver him in time of trouble. Psalm 41,1st verse
BAILWARD OF HORSINGTON
ALINE MARGARET, Mrs. BAILWARD, of Horsington Manor, Somerset, 2nd dau of late Capt Francis William Forester, of Hurdcott House, Salisbury, Wilts (see BURKE'S Peerage, FORESTER, B); b 11 June, 1904; m 24 Oct 1934, JOHN BAILWARD (see below).
Lineage-JOHN BAILWARD, of Bradford-on-Avon, Wilts; b 1677; m 1713, Constant Owen, of Nailsworth, Glos, and d 1742, leaving issue, a s,~

Endowment for the Weselyan Methodist Minister
Anne Bailward, widow, by will dated 21 October 1785 gave £80, the interest thereof to be paid towards the expenses of the preachers at Mr. Wesley's preaching house at Bradford, to be continued as long as they should continue to preach according to his doctrine there. The capital amount is now £100.
These two endowments are in the hands of Mr. James Long and other trustees, and continue to be applied in accordance with the stipulations.

Somerset Archives:
In 1693 Sir James Tillie of Pentillie Castle Cornwall owned extensive Estates in Cornwall including Belle Court at Wingfield in his will of 1703/4 confirms previous settlement. John Bailwatd as my "Kins man" and appoints executor & trustee. Legacy of £50 1/4 part of manor of Wingfield & Stofford & other property
Ann BAILWARD (1713-1788) and husband John lived at Frankley. John is not mentioned on the memorial. Ann's father was a Quaker, as washer rnother-in-law, Constant. Ann(e) and her husband seem to have departed from their Quaker roots and to have become interested in Anglicanism and Methodism. They had seat rooms in the pews of Holy Trinity Church. After John's death, Ann(e), with Constant, gave hospitality to John Wesley who visited the town many times between 1739 and 1789. (John Rogers was Vicar of Holy Trinity [1710-1753] and was not willing to allow Wesley to preach on a weekday but was glad of help on a Sunday). John Wesley stayed with Ann(e) in September 1787 and, after her death in 1788 at the age of 75, he wrote: 'good Mrs Bail ward... after long struggling with a deep nervous disorder... the cloud removed, her load fell off, and her spirit joyfully returned to God'.
In her Will Ann(e) left £80 for investment so that the interest could benefit the preachers at the Bradford Preaching House.
Originally there was a Widow's lozenge, possibly of Anna Maria Stevens, near the monument but this is now missing, Anna Maria's mother was the great-great-granddaughter of Anthony Methuen, Vicar of Prome. In the churchyard, on the south side, is a tomb of William STEVENS, Newtown, Bradford, died 13 February 1855, aged 83. He was the nephew of William Stevens of Frankley.
As the photo (January 1997) on p. 18 shows, the two brackets supporting the monument are slipping. By the end of 1997 this slippage was serious, and the memorial was taken down in January 1998 was restored in April 1998.
The north wall of the church, partly below the level of Church Street above, is damp and the fixtures are rusty. On the face of the wall behind the monument has been revealed some early seventeenth century lettering.
The names starred in this family tree are recorded on the memorial:
John BAILWARD m. Constant OWEN (Quaker)
1713
John BAILWARD m. 1744 Ann* Shewell of London
(1713-1788) (father a Quaker, linen draper)
* Samuel BAILWARD of Hornington m. Anna Maria Stevens *
(1765? -1800) | (1759-1837), daughter of
William Stevens, who, in 1757 m. Mary, the youngest daughter of Paul Methuen.
Henry Methuen BAILWARD * Mary Anne Elizabeth Julia Amelia (1788-1812) (1788-1823)
ARMS for BAILWARD
A chevron between three bees
volant in chief, and three
torteaux in base.