Use search engine below to find out about subjects that interest you on this site:
William Drewe (1745-1811)
Scroll down or click on Home to return back.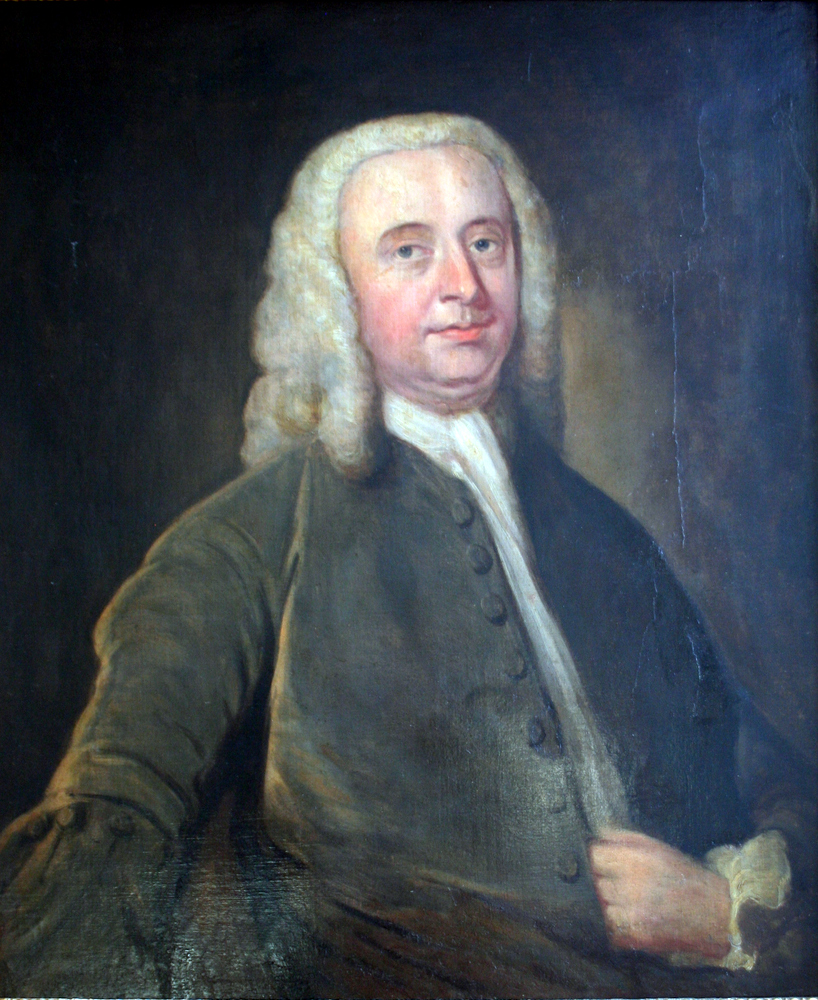 PORTRAIT OF THOMAS ROSE OF WOOTTON FITZPAINE, DORSET(1679-1747)
Half length, wearing a grey coat and long wig, oil on canvas 74.5 x 62cm. The Roses were originally merchants at Lyme Regis.Thomas Rose (1679-1747) was sherrif of Dorset in 1714. He left an only daughter. Mary, who married Francis Drewe, Esq. This estate afterards came to Thomas Rose Drewe. second son of Francis Drewe, who resided in Wootton Fitzpaine until his death in 1815.
Thomas Rose Drew (1740–1815) and his wife Betty Incledon, pastels by Lewis Vaslet (1742–1808), collection of Dunster Castle. (His half-sister Mary Drewe (died 1830) was the wife of John Fownes Luttrell (1752–1816), feudal baron of Dunster)
Eeb. 1st, 1783, it was conveyed by Henville to William Drewe, esq. of New Inn, London; and Feb. 3rd, 1824, by John Rose Drewe and William Tucker (devisees under the will of William Drewe), to James Ross, esq. who bequeathed it by will to his nephew James Augustus Ross; and on the 27th Nov. 1848, the latter conveyed it to Robert Charles Hildyard, esq. Q.C. and M.P. for Whitehaven, since deceased, under whose will it passed to his son Robert Henry Hildyard, esq. attache to the British Embassy at Paris, and the present owner (1864). Abstract from Hutchins History of Dorset
1781 William Drewe is renting out Lilly Farm in Charmouth to David Davey
1812 land Tax Returne showing William Dreww Esq renting Lilley Farm to George Case with a valuation of £5-12-9d
1783 Map Record Book has William Drew Esq owning Lilleys Farm consisting of:
186.Little Moor (£2-15-1d) 2a 39p
187. Cow Leaze (£8-17-8d) 7a 2r 36p
188. House & Orchards (£3-0-0d) 1a 3r 39p
189. Spring Close (£3-17-9d) 3a 18p
190. Alms House Meadow (£8-8-7d) 7a 1r 13p
191. Lilly Mead (£8-18s-7d) 8a 2r 1p
192.Stoney Close (£8-9-0d) 8a 1r 32p
193. Hill Close (£15-8-3d) 15a 1r 26p
194. Little Hill Close (£2-19-1d) 2a 3r 33p
No.2 Deeds
1736 Thomas Rose of Wootton Fitzpaine, Peter Templeman of Dorchester and Jacob Burrows of Charmouth, Blacksmith.
1774 Jacob Burrows, who died in that year to his widow, Elizabeth.
The earliest record is in 1736, when Thomas Rose of Wootton Fitzpaine sells the property to Jacob Burrows. Thomas Rose is from an extremely wealthy family, originating as merchants in Lyme Regis. He is Lord of the Manor and lives in a fine house in Wootton Fitzpaine. As a contrast, Jacob is a Blacksmith, but he also,purchases a number of properties in the village including The George Inn and Rose and Crown Inn, The Elms and Even Hill. But he sells most of these to William Oke,but keeps his house and some fields. These eventually would be where the three Hillside properties would be built.
William Drewe`s Will of 1823 is very long and reveals his great wealth amongst it are the following refrences to Charmouth and the area around.
The parish, despite being the home for three centuries of the Drewes 'of Grange, Devon', has managed to keep itself apart from the main turmoils and conflicts which have beset other parts of the county and country. As a consequence it has tended to go its own way under the auspices of a benevolent squirearchy and remain in a political backwater. Even when the 'old' Drewes (of Grange) had to sell-up after 300 years the 'new' Drewes (of Castle Drogo) kept to the parish's traditions and thus families with long parish histories have been able to remain in the rented accomodation which Broadhembury village has provided.
Receipt. Mrs Richards in account with William Drewe. Paid a years rent for your house in Grosvener Square £359. On suffering a recovery of 2 thirds of Ashley estate in Litton Cheney in 1806. To secure you a life interest £72 1811
Bargain and Sale. 1. Francis John Browne of Frampton, esq, Frances Brown and Marcia Richards of Grosvenor Square, Middx, spinster. 2. William Drewe of New Inn, Middx, gentleman. Ashley Farm with lands and appurtenances, Litton Cheyney. Mentioned: John Stevens; Robert Roberts; Maria Richards 1806
Letter. From William Drewe of New Inn, the family lawyer to Mrs Richards, Grosvener Square. Relating to Mrs Grant and settlements on her marriage to Colonel Grant. With bills from 1806 to 1811
Assignment of the manor of Baglake in Longbredy. (1) Mary Richards of Grosvener Square, Middlesex widow and executrix of John. (2) William Drewe of New Inn, Middlesex. (3) Charles Best of Bath, merchant late of London and Worcester. (4) Richard Fowler of Salisbury, doctor of physic. (5) Hon. James Edward Harris, Viscount Fitzharris of Spring Gardens, Westminster. Rev. John Henry Jacob of Salisbury, clerk and Robert Still of Salisbury..
Thorncombe. Release of share of estate of Mrs Adney. Presentment of Thomas Vernon Dolphin of Egford, Gloucester and Lucy Ann his wife (nee Bragge) and John Bragge of Sadborrow and Edmund Rolfe of Stanhoe, Norfolk and Thomas Rose Drewe of Wotton Fitzpain, Dorset and Rev John Richards of Longbredy, Dorset clerk. With receipt signed by TV[?] Dolphin in the presence of John Dolphin: received of John Bragge and Edmund Rolfe trustees of my marriage settlement of 27 March 1793 sum of 5267 0s 2d dated 28 Oct 1802, Bristol..
Will of Richard Brodrepp, Maperton, esq. (probate copy) Dated: 21 Jul 1774; probate 16 Aug 1774..Mentioned: sister: Eleanor Richards, her son John Richards. Nephews: Thomas Light, William Light. Neice: Harriet wife of Mr Charles Best, merchant and three children. Neice: Hester Eleanor Stratton. Kinswoman: Mrs Mary Brodrepp. Mr and Mrs Bragg of Slape, their elder daughter and their sister Miss Ann Adney. Mr William Drewe of New Inn. Mr Thomas Fox and Mr Barnich Fox. Sister: Combe of Shepton Mallet. Brother and sister: Combe of Charmouth and their three children. Also other distant relatives.
Catherston:Eeb. 1st, 1783, it was conveyed by Henville to William Drewe, esq. of New Inn, London; and Feb. 3rd, 1824, by John Rose Drewe and William Tucker (devisees under the will of William Drewe), to James Ross, esq.
We have no further account of it till about the reign of Charles I. when it came to the Roses, originally merchants at Lyme. Thomas Rose, esq. sheriff of this county 1 George I. left an only daughter, Mary, who married Francis Drewe, esq. co. Devon. Mr. Rose died January 17, 1747. This estate afterwards came to Thomas Rose Drewe, second son of Francis Drewe, who resided here till his death in 1815, as did his relict Mrs. Rose Drewe. In 1865, it is the property of Mrs. Luttrell of Kilve Court near Bridgwater, relict of Colonel Francis Luttrell, third son of John Fownes Luttrell, esq. to whom it was left by her brother, F. W. Drewe, esq. of the Grange, Devon.

Sacred to the memory of Thomas Rose Drew of Wootton House, Esq.
The second son of Francis Drewe Esq.
Of Grange in the County of Devon.
Succeeded in early life to his maternal estates. 
He spent his days at this place.
In the faithful and unwearied discharge 
Of all the duties of his Station,
And died on the first of June, 1814
Aged 76 years.
Beloved
Lamented
His afflicted widow
Erected this monument 
As a lasting tribute of her affection
Also
To the memory of
Betty Rose Drewe,
The widow and relict of the above named
Thomas Rose Drewe esq.
She died on the 7!day of May 1846
Aged 88 years. 
John Rose came for St. Burlado in Jersey and was elected mayor of Lyme Regis in 1611.He shortly after married Faith, daughter of Ralph Ellesdon, Esq. Richard his son, married Elizabeth, daughter of Henry Henley, Esq., of Leigh, and represented Lyme in parliament from the year 1639 to 1655.he occurs the first possessor of Wootton Fitzpaine about that time. Thomas Rose, esq., sheriff from the county in the reign of George l left an only daughter, who married Francis Drew of Grange, Devon.