Greenland Mills, Bradford on Avon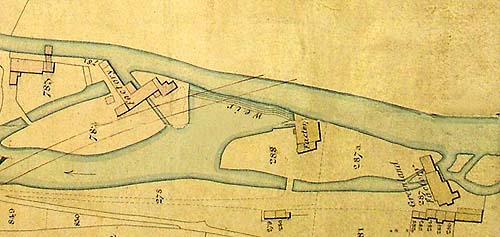 1837 Ashmead Map showing the 3 Mills and later lines show where the railway would cross over the islands and river
Greenland mill workers in 1979
Greenland Upper Mill
The Mill with the other adjoining mills was owned by the Halls and then the Duke of Kingston who in 1718 is shown leasing it to Thomas Methuen. By 1804 it had been bought by John Hinton, and a factory had been built on the site. Thomas Tugwell, grandson of Humphrey Tugwell, ran this factory from 1810 until 1825. By 1832, the tenants were Yerbury, Edmonds and Company. In 1841, the factory was empty except for the fulling mill, which was being occupied by Thomas Spackman junior. The executor's of the owner- John Hinton offered the factory for sale in 1844. From 1851 until 1905, J. W. Applegate and Co. ran their woollen business from the premises.
Greenland Middle Mill
A Fulling Mill was offered to let in 1746 by the Duke of Kingston, and later in the 19th Century it was purchased by John Fisher, Millman. He built a large factory which was let to Stoddart. In 1832 it was occupied by Thomas Spackman who also had the Fulling Mill. In 1862 it burnt down, but was partly reinstated and was owned by a number of people until finally bought by Applegate Brothers of the adjoining Upper Mill.
Greenland Lower Mill
There is an early reference to a Tucking Mill being occupied by John Yewe and Richard Horne in 1592 as part of the John Hall's Estate. Later a successor, the Duke of Kingston let it and is referred to as the lower fulling mill. It was bought by John Renison and William Shrapnell in 1797 from Lord Newark for £1,350. later John Renison let his part of the Mill to Philip Shrapnell of Monkton Combe. By 1808 the rateable value had shot up from 3d to 2s1d, indicating that a factory had been built by William and Philip Shrapnell as partners. But by 1811 it was taken over by Elimelech Edmonds and Mawbey Tugwell at a rent of £460.
Mawbey died in 1815, but the firm known as Yerbury, Tugwell and Edmonds, remained there until 1824. In that year Edmunds assigned the remainder of the leasehold interest to Saunders, Fanner and Saunders, and moved his business to their larger factory in Church Street. Unfortunately the new firm went bankrupt in 1841, and it was not until after 1850 that it was bought by Stephen Moulton and added to his rubber works at the nearby Kingston Mill.