Kingston Mill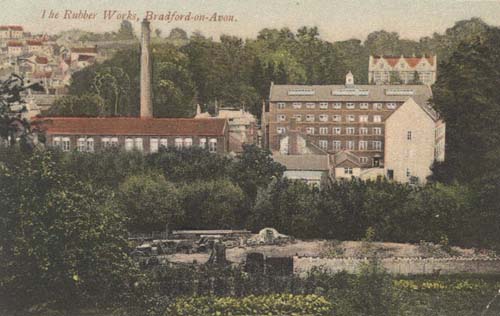 The Hall which had for many centuries been the ancestral home of the Hall family became the propery of the Duke of Kingston c.1700 and subsequently Lord Newark sold it to Thomas Divett in 1805. Near to the Hall he built a factory in 1807. By 1816 he had let it to Hopkins and Howard (see their letter head).who occupied it until 1826. In 1836 it was let to Samuel Pitman, father of Isaac (the famous inventor of shorthand) who had moved from Silver Street in Trowbridge. His business failed with many others by 1842 and was empty until bought by Stephen Moulton from the Divett family. The main factory remained in use as part of the rubber factory of George Spencer, Moulton and Co., subsequently the Avon Rubber Company, until demolished in 1972.
The Mill can be seen here as originally intended with water passing through it to provide power on this letter heading.
The Mill built early in the 19th Century by Thomas Divitt.It was the first Mill to go over to the manufacture of rubber. It can be seen here, with the Hall behind it, as painted by Elizabeth Tackle c.1855
Stephen Moulton and his wife looking over their factory, Kingson Mill, as painted by Elizabeth Tackle c.1855
Kingston Mill in the 1970`s
1837 Map of Town showing Kingston Mill with The Hall behind it.