The Mill, The Street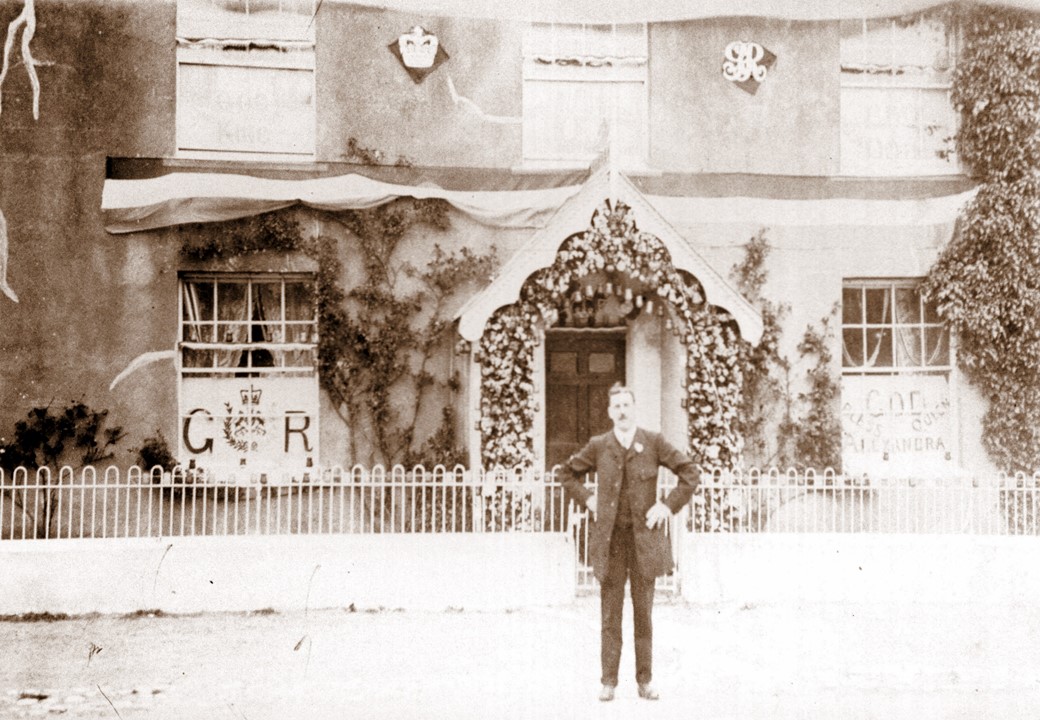 John Gillingham, Farm Bailiff to the Bullens at Catherston stands outside Mill Cottage.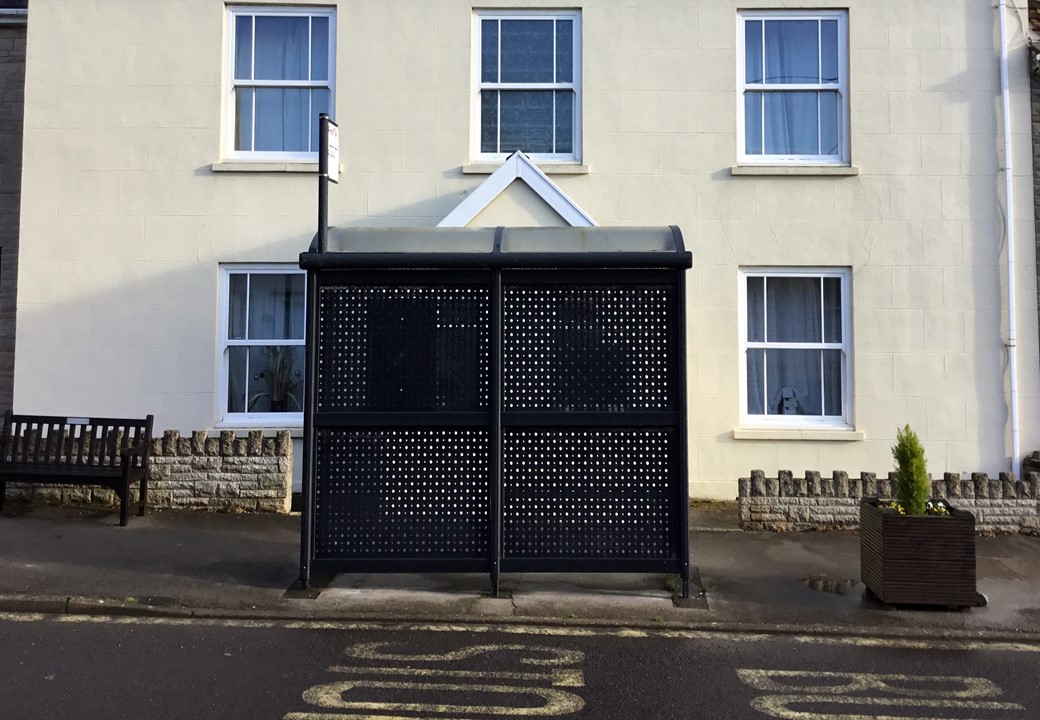 The same view today. Almost unrecognisable with the road height raised and a Bus Shelter now obscuring the doorway.
The first record of a mill in this district is found in Domesday, which mentions that the value of the mill at Cerneli was threepence, but whether the site of that mill was the same as that of the present Charmouth mill is impossible to say. Cerneli was the old name for Catherston and it is interesting to note that a former name for Charmouth was Cernenude. "Neither Catherston or Charmouth are on the river Cerne, owing to the names Char and Cerne being convertible; what is now called the Char was at the date of the Domesday called the Cerne." (A key to Domesday of the Dorset Survey by the Hev.A.W.Eyton). Cernemude is also spelt "Cermue" "Cernemue" ; 'Cernemouth","Carrum" according to the Saxon Chronicle. Selman in his "Dorset History" says that the place name 'Char", 'Cerne' meant 'stony. In 1320 William, Abbot of Forde, required each burgess of Charmouth to have his corn ground at his mill. So there is a mill in Charmouth in the fourteenth century, but I do not know where. Coming to more recent times, I have a note that both Churchward and Aplin were millers but I know nothing about them. In 1801 the mill was owned by Wallace of Lyme Regis, whose manager was John Toms. Later he became the proprietor and worked the mill successfully for many years until the competition of the larger mills became too heavy and it was bought by Colonel J.B.S.Bullen, who put Gillingham in as miller.
Some hundred yards south of Paradise Bridge, at the foot of Catherston fields, the river used to flow over a weir and could be turned into the mill dam, which took a course as far as the mill, where it turned a water wheel which was on the north side of the building. Since the mill became idle the dam has gradually silted up and the weir only exists as a trickle. The mill building was converted into two cottages when it was no longer a paying proposition; the mill yard became a farmyard and the mill house was occupied by the farmer. During alterations necessitated by the front of the house collapsing in 1947 dutch tiles and bricks, which had been used as rubble many years ago, were discovered. An archaeologist, who was staying in the village at the time, told me that they had been made of London clay and were fourteenth century.
SURVEY OF THE MANOR OF CHARMOUTH : made October 1564
Customary tenants:
Joan, Payne, widow of John Paine, holds, during her widowhood, a cottage and grist mill with 30 acres (a); viz; curtilage, garden and orchard (½ a), Brodemede (10 a), mydell Wellesleye (5 a), Mydell mead (3 a), Wellesley pasture (4 a), Dollyns mead (2 d), Ryver mead (3 d), Le moore (1 d), and Le Common close (1 d) by copy 22 Apr 1509; fine £6 13 s 4d, rent 64s 5 ½ d. The reversion of the premises granted to Alice Speringe, dau of Roger Garlande and John Speringe, Alice's son, by copy 15 Sep 1573; fine £10.
SURVEY OF THE MANOR OF CHARMOUTH 1783
Sir John Pole
135. Mill, House & garden (£5-0-0d) 1r 10p
136. Home Close (£1-2-10d) 3r 2p
137. Mill Hams (£3-3-3d) 1a 3r 32p
138. Mill Meadow (£5-13-11d) 3a 2r 13p
139. Westley`s Close (£4-9-6d) 3a 2r 13p
140. Charmouth Meadow (£6-10-5d) 4a 1r 16p
141. Middle Meadow (£5-1-7d) 3a 1r 22p
142. Moor (£6-3-0d) 4a 16p
143. Higher Marsh (£5-6-3d) 3a 2r 7p
144. Lower Marsh (£12-5-0d) 8a 29p
145. A Common (£1-15-7d) 1a 30p
146. Langmoor Wood (7s-10d) 3r 30p
Sir John Pole - 35a 3 r 16p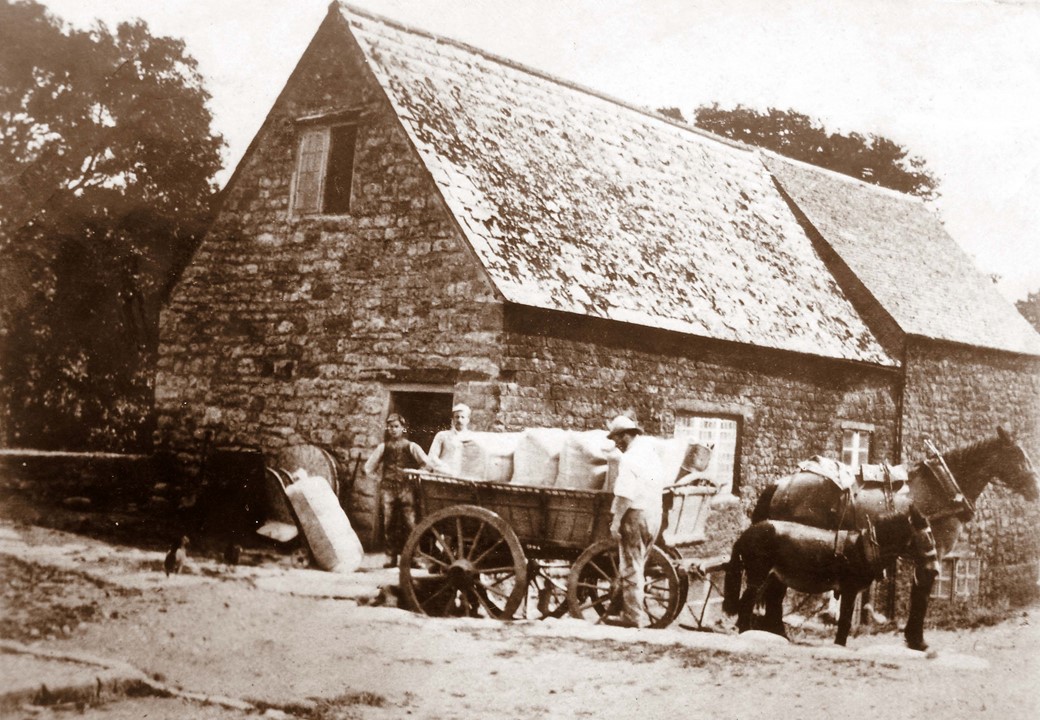 John Toms with his workers by his cart laden with sacks of corn. The Mill went into decline and vestiges of it can still be seen by the County Bridge.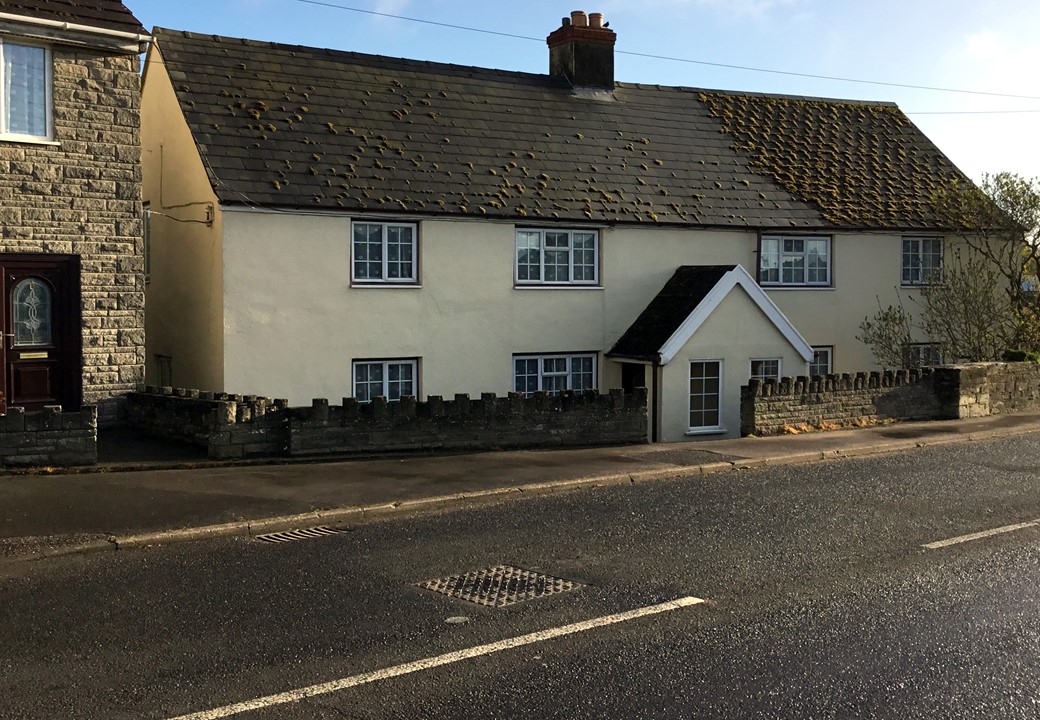 The same view today with raised road and extensive alterations compared with earlier photo.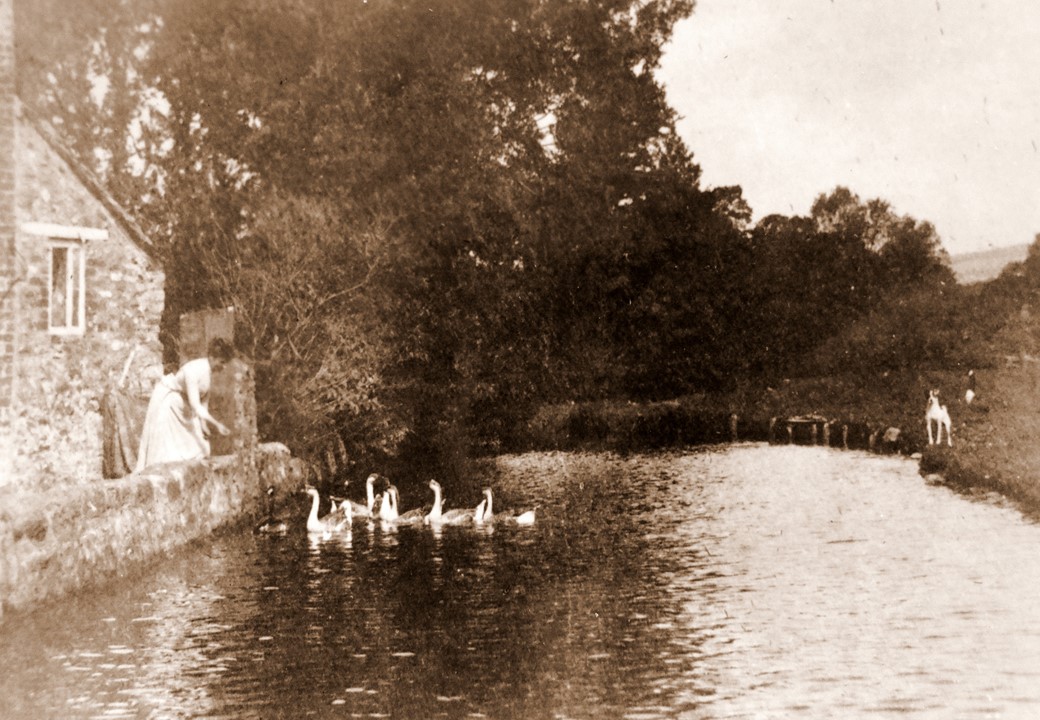 Mrs. Toms feeding Geese on the Mill Pond.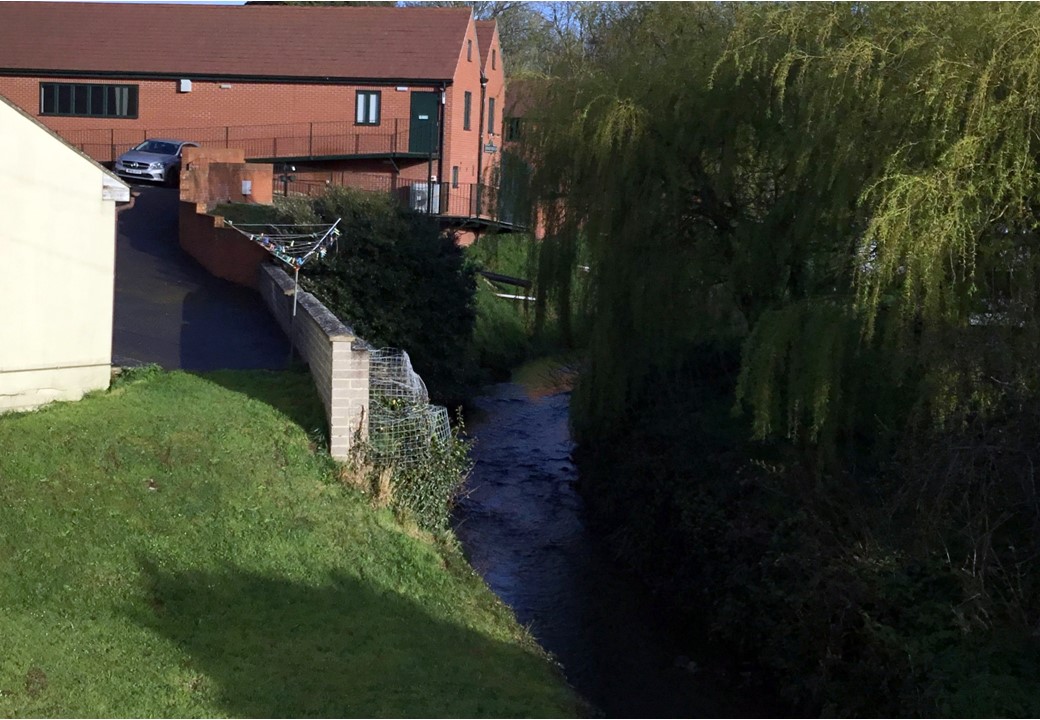 The same view today