Scroll down to find out more about the property.
Click on images or Charmouth Home to return back.
St. Andrews Church. The Street. Charmouth.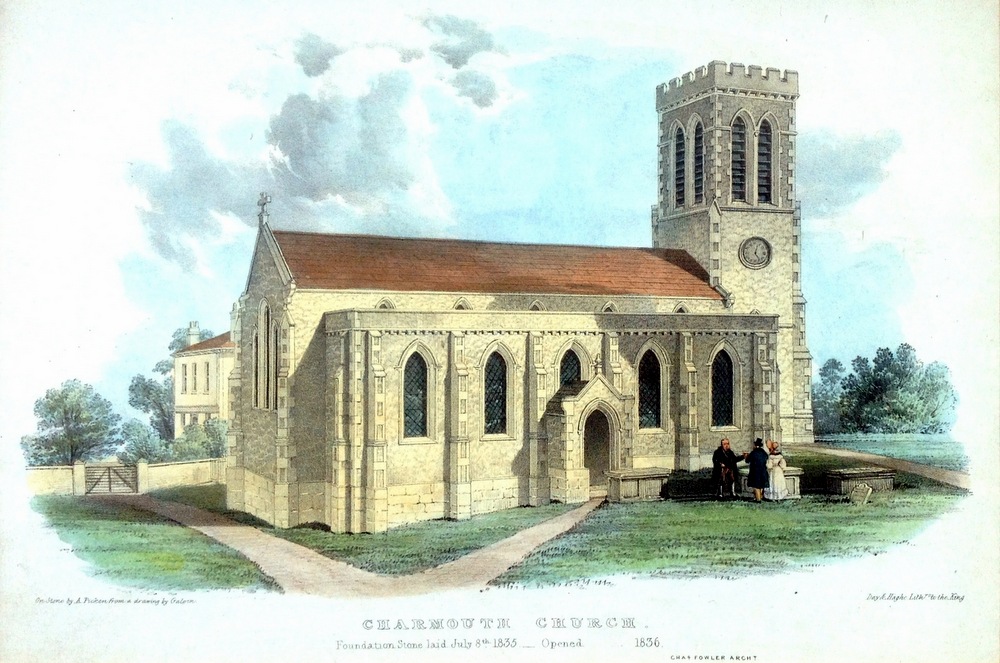 A comprehensive history of this Church has recently been published and can be bought in the village at Nisa, Post Office and Morgans for £9.99.
The pages from it have been put on line. Just click below on the link - Charmouth - Its Church and People Book.
Click on other links below to go to further information regarding this historic building and its history.
Below is a list of Rectors of St. Andrews Church. Click on links to find out more:
| | | | | | | | |
| --- | --- | --- | --- | --- | --- | --- | --- |
| Year | Rector | Year | Rector | Year | Rector | Year | Rector |
| 1332 | Richard de la Hegh | 1439 | Richard Piper | 1662 | Timothy Hallet | 1883 | William W Nicholls |
| 1335 | Reyner de Colonn | 1441 | John North | 1664 | William Lock | 1900 | Spencer E Simms |
| 1337 | Robert Warrener | 1464 | Thomas Newton | 1673 | Joseph Bragge | 1920 | Sidney Selwyn |
| 1349 | Robert Nightyngale | 1465 | Thomas Dyer | 1708 | Edward Bragge | 1922 | Fredrick E Markby |
| 1349 | William Corselin | 1465 | Thomas Fitz | 1747 | William Coombe | 1928 | Norman R. Bennet |
| 1362 | William Tolefate | 1534 | Edward Cambrook | 1783 | John Audain | 1933 | Claude D Ovens |
| 1364 | William de Fordington | 1544 | William Sankey | 1827 | William L Glover | 1945 | Edward J Mackie |
| 1382 | William Wotham | 1560 | Lawrence Orchard | 1833 | John Dixon Hales | 1963 | Harold Hacking |
| 1382 | William Langerigg | 1565 | John Evans | 1839 | James W Hatherell | 1969 | Robert H. T. Lucas |
| 1392 | William Launce | 1572 | George Estmond | 1843 | Edward R Breton | 1987 | John H Potter |
| 1435 | John Thredor | 1599 | Samuel Norrington | 1875 | Horace Moule | 1992 | Roger H Blankley |
| 1439 | Thomas Thorner | 1640 | Bartholomew Wesley | 1879 | John S Stewart | 1998 | Golden Cap Team |
Below is a list of Patrons of St. Andrews Church.
Click on links to find out more:
Below is a list of a number of Memorials and Gravestones to be found at St. Andrews. Click on links to find out more: