A History of St. Andrew`s Church, Charmouth
Click on image or on Home to return back.
Displaced, Upright Curved Top.
In Memory of/ROBERT DAVEY/A respectable inhabitant of this place/who died the 8 th May 1803/aged 50 years/Also/REBECCA DAVEY his wife/who died the 7 th of July 1796/aged 39 years.
Displaced Upright, Rounded Top.
Sacred/to the memory of/JOHN DAVEY/who departed this life/l st May 1835/aged 88 years.
To the memory of Benjamin late of David. Elixabeth Davey of this parish who was shipwrecked on Board the Balona Private Ship of War on the 5th Day of Septembet 1779 aged ... Years
On this day 1st May 1835 John Davey died and was apparently buried in the same grave as the same stone was used. The latter was teshaped, wherby partly destroying the previous lettering, turned round and John's name cut in the revers side.
John was 88 when he died but Benjaimn age is difficult to decipher. The registers give little or no information about this family or where and how Benjamin was shipwrecked. Could be Bayonne class of ship

.Another Tomb, which is placed with others against the wall off The Elms garage, is unusual. On it is inscribed - In Memory of Benin. late of David .Elizabeth Davey of this parish who was ship wracked on Board the Balona ,Private ship of War on the 5th Day of Sept 1779 aged years.
On the 1st. May 1835 John Davey died and was apparently buried in the same grave, as the same stone was used and reshaped, whereby partly destroying the previous lettering, John's name was cut on the reverse side. The registers give little or no information about the family or how and where Benjamin was "shipwracked"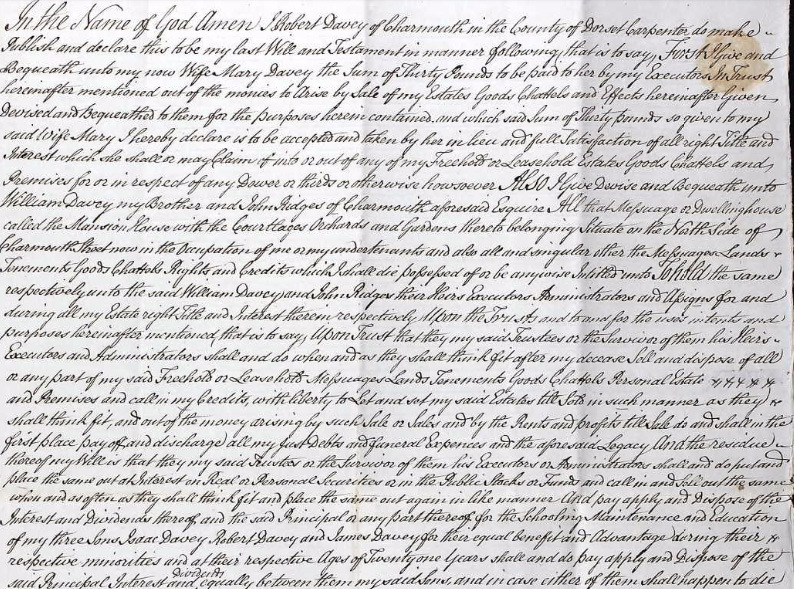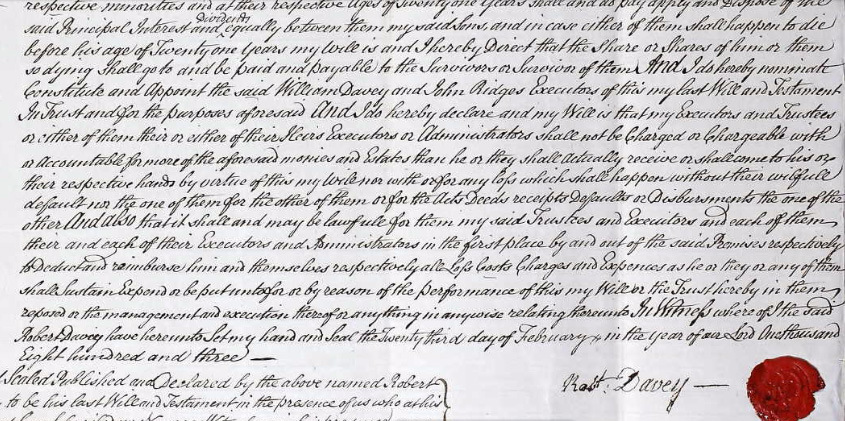 Robert Davey`s Will 1803
bout Riches and Honor 1779
This recruitment advertisement is for a privateering crew aboard the Revenge as it appeared in the Nova Scotia Gazette on January 12, 1779. At that time Nova Scotia, Canada was a territory of the British Crown and a major port where the powerful British fleet was stationed.
This advertisement for crew is for a privateering expedition to the southward with the intention of capturing French ships and their booty. The British government issued letters of marque to these private war ships to hunt down the Empire's enemies. The Revenge was different than a pirate ship because it sailed under a Letter of Marque which is a license that allowed them to arm a private warship and seek out the King's enemies. They could not capture ships that were friendly with England.
In 1779 the wharves and docks were rife with all kinds of sailors looking for a chance to climb out of their deep poverty by signing on to one of the numerous Privateers in the harbor. While the Naval fleet was in port these sailors were trying to hide from the numerous English press gangs that were forcibly taking any able-bodied man to fill their ships. There was no chance at all for riches in the Navy–only harsh discipline and suffering. A sailor's' only hope of riches was to crew aboard a privateer or turn pirate. This advertisement most likely appeared just after the British fleet had sailed to reclaim their breakaway American colonies that had recently declared independence. olden times, kingdoms and governments did not have navies. They would license private warships (privateers) to capture their enemies' shipping and goods. These licenses were called Letters of Marque. Without one you were a pirate and would hang.
Charmouth manor house for sale In 1803
To be sold, the Fee- Simple and Inheritance of a large Dwelling House, Garden and Orchard, late the property of Mr. Robert Davies,Builder, deceased, situated in Charmouth aforesaid, consisting of a Hall, a Parlour, Kitchens,Cellars, Pantries, and other conveniences on the ground floor,five principal and sundry Servants Bed Chambers,Closets,etc.on the one pair stairs and attic storey.the premises are situated in the centre of the village, and command a view of the sea.Length of front 77 feet by 330 feet deep, were formerly the Manor House, and calculated for the permanent or temporary residence of a Genteel family, or may be converted to form one of the first Inns on the Western Road. The House having been under improvements and repairs by the Proprietor at his late decease. Charmouth from its Southern Aspect and Local situation, is one of the most delightful villages in England, about half a mile from sea bathing. The Mail and other coaches pass through it every day, Distance about 2 miles from Lyme Regis, 5 from Axminster and 7 from Bridport. For the above sale, an auction will be held by John Hutchins, at the Mail Coach Inn in Charmouth on Thursday June 30th instant at 4 o'clock in the afternoon. For viewing apply at the house, and further particulars to Mr. John Ridges in Charmouth, or the Auctioneer at the Golden Lion, Lyme - Letters must be post-paid.
N.B. Immediate possession of the premises may be had.
And on Thursday July 7th, and following days will be sold by auction without Reserve.- All the general assortment of good and useful Household Furniture, together with all the Stock and Trade of the late Mr. Davies, consisting of sundry Lots of Oak, Ash, and Deal, Carpenters and Joiners Tools, Etc. charmouth, June 9th, 1803.