A History of St. Andrew`s Church, Charmouth
Click on image or on Home to return back.
1765 Digory Gordge appears in Vestry book accused of assisting smugglers
Displaced, Tall Upright, Flat Top.
In memory of/DIGARY eldest son of/DIGARY and MARTHA GORDGE/who died August I s1 1831 Aged 21 years/Also of the above MARTHA GORDGE/who died February 8* 1861 aged 77 years./Also of the above DIGARY GORDGE/who was -56 years Clerk of this Parish/who died April 27 1861 aged 71 years.
Digory Gordge
This grave is against the wall of the Coach and Horses.
Digory Gordge was clerk of the parish for 56 years.He saw the village increasing in size year by year until the church was not large enough to hold the congregation. He was clerk during the building of the Church and he died on 27th April 1861 at the age of 76 only just before the churchyard was enlarged.
There have been many Digory Gordges in the place.At a Court Leet held on 5th October 1770 Digory Gordge,a juror, and probably his grandfather, maintained that " All wrecks happening within the Manoe belong to the Lords and Ladies of the Mnaor, as it had been to his knowledge in the days of Anthony Ellesdon".

Opposite the east window is the grave of Digory Gordge" There have been in the past many of that name in the village. The first one in the register was the son of Ralph and Anna Swaine., his son Digory was born in 1759. followed by his son Digory born in 1784. He married Martha Squire in 1806, and had a son Digory who died in 1831. There were five other children, one of whom had thirteen children. Yet today there is not a single Gordge in the village. Jane Squire Gordge, daughter of William, a tailor f 'married George Grinter in February 1893. Their sons, Sidney, Harry, Tom and Fred and Mrs, Harry Bowditch are the only representatives of the Gordge family. The Digory whose grave I referred to was Clerk of the parish for fifty six years. He started with a salary of three guineas a year. His other duties besides being clerk were constant 'attendants" at the church and cleaning the church. His name appears as witness at most marriages and there are dozens of papers in the Vestry signed by him, including a bill for tolling the bell for the death of the King and Duke of Kent in 1820, and in 1832 for the death and funeral of George IV, After twenty six years he wrote to the church-wardens asking for an increase in his salary as the number of in­habitants had increased, this was raised to eight guineas a year. He lived in a cottage at the top of Lyme Hill, on a plot of ground shared by his brothers William, Samuel and Urath. William and Digory sold their plots to Tobit Gear, which passed eventually to Jimmy, father of Billy Gear, garage owner, who sold it to E.A.Washer in 1944 and in 1960 it was purchased by Misses M.C.H.Crosbie and D.M.Beckhouse they called their house "Digory". Digory died in 186l aged 79. I have received in recent years interesting visits from members of the family who have left Charmouth and wish to trace their ancestors. The most interesting one was trying to connect with the Gordges of 'Shipton Gordge'but was unable to bridge the gap of about a hundred years in the seventeenth century. I have mention of over forty of the family who were either born or lived in the village*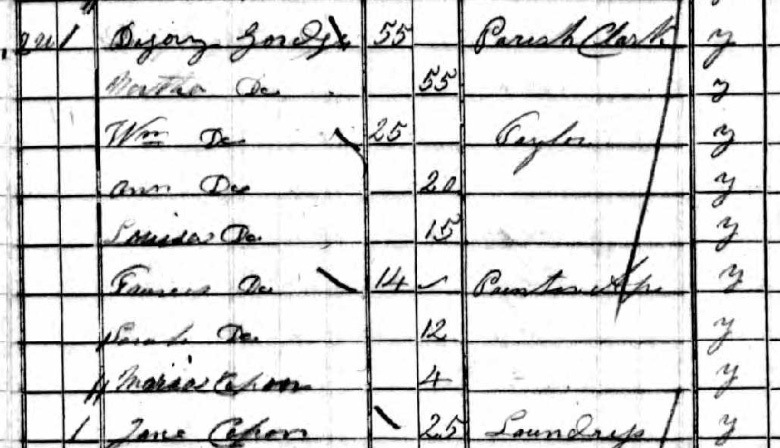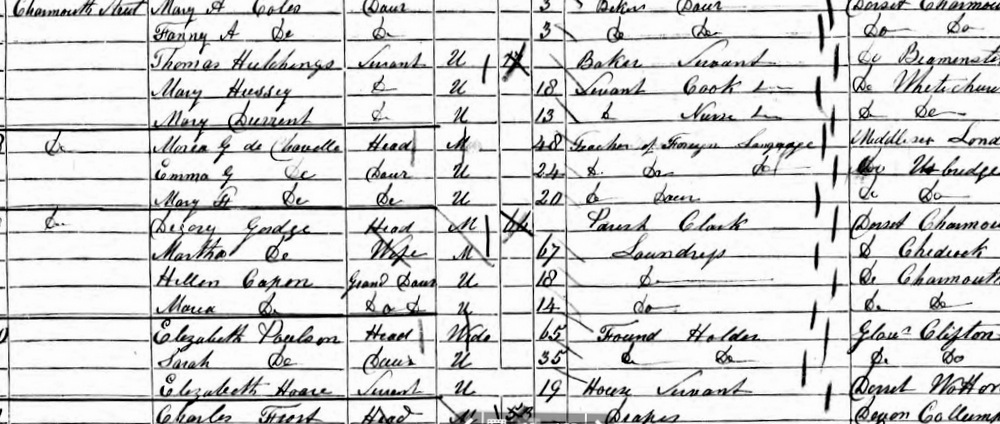 1851 Census

1861 Census
The House on the Corner where Digory Gordge lived, now the Post Office on the corner of Barr`s lane
The same view today
Married 7 Jun 1808, Bridport, Dorset
William Henry
Born Charmouth, Dorset
Christened 6 Jan 1789, Charmouth, Dorset
Died 26 May 1865, Swansea
Occupation: Cordwainer, store keeper, general labourer
census 1841: House of Correction, Prisoner, Swansea 2
census 1851: 26 Garden Place, Swansea
census 1861: 13 Garden Street, Swansea
Convicted for stealing yarn from a Charmouth mechant.Devon Assizes Exeter Summer 1818. PRO ASSI 21/25/26/24/23

1818 transported for 7 years -see newspaper article from British Newspaper Library (Trewman's Exeter Flying Post or Plymouth and Cornish Advertiser) 20 Aug 1818 and there is a matching gap in his children's births. They were sent to Portsmouth from the County Gaol.

14 Aug 1818 Records from Ancestry show Wm Gordge on prison hulk York & Laurel(?). Looks as if freed 22 Mar 1822. Free Pardon?