A History of St. Andrew`s Church, Charmouth
Click on image or on Home to return back.
Sacred/To the Memory of ELIZABETH POULSON,/wife of GEORGE POULSON,esq./late of Clifton,near Bristol/and daughter of the late/DAVID DAVIES.esq surgeon,Royal Navy,/who sweetly fell asleep in Jesus,/Aug.7,1854./"Blessed are the dead that die in the Lord'/This tablet is erected,/As a tribute of grateful love to the/Best and Tenderest of Mothers,/By her bereaved/Daughters.
Flat Topped Tomb, Railings removed.
Sacred to the memory of/ELIZABETH POULSON wife of GEORGE POULSON Esq/and of WILLIAM xxx died at Bristol and daughter of the late/DAVID DAVIES Esq. Surgeon Royal Navy/who xxxx fell asleep in Jesus/Aug 7th 1854 aged 69 years.
The Limes (Charmouth Lodge) In 1866 the Rev. Thomas L Montefiore, Rector of Catherstone, and the Misses Poulson occupied the 2 houses. Later T.L.Montefiore became owner and joined them
No. 2 Hillside was owned in 1831 by Benjamin Jeanes, dissenting minister and on his death his widow took possession and in 1842 sold it to George Laurie for £820 purchased by Trust Funds. In 1867 it was put up for public auction and bought by the Misses Poulson for £700. When Sarah Poulson died Margaret Maria became sole owner.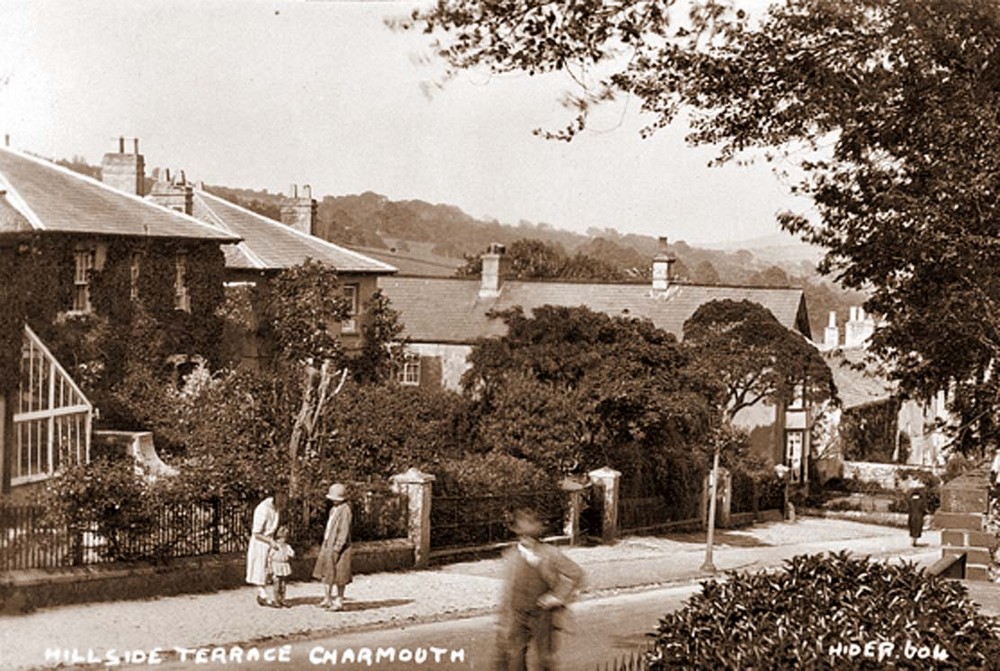 1851 Census showing Elizabeth Poulson living at The Limes
Sarah Davies Poulson born in 1811 in Clifton, Bristol
1844 directory not mentioned , not in 1847 land tax. 1855 directory - the misses poulson