A History of St. Andrew`s Church, Charmouth
Click on image or on Home to return back.
Another claim to fame in the history of St. Andrews Church is the fact that we had as our Rector none other that the grandfather of John Wesley, the founder of the Methodist Church. Bartholomew Wesley became Rector in 1645. He was placed here by the Parliamentarians and supported their cause. His time as Rector coincided with the attempt by the future King Chales II escape by boat to France from the shores of Charmouth in 1651. It was Stephen Lymbry who was to have taken him in his boat. But his wife became very suspicious and locked him in their house, so he could not assist. Charles could not wait and went on to Bridport. In the early morning one of the kings horses was taken to be shod. The blacksmith declared that its shoes had been made in the north of England. When the Ostler said that a party of strangers had sat up all night, suspicion was aroused. He ran to consult Mr. Wesley at the church, but as he was reading prayers, there was considerable delay and Charles was gone before any measures could be taken by him to prevent his escape.
Bartholomew Wesley and his son, John Wesley are shown as signing an indenture for their house sale in 1668. The property now called "Mill View" stands on the site of the former house where they lived. The deeds still exist in the Dorset Record Office and shortly after the Wesleys moved it was bought by the same Stephen Limbry who was involved in the attempted escape of the King. The former 17th Century Pulpit Bartholomew preached from can be seen today in Bridport Museum following its removal from the former Church. Another reminder of this famous Gentleman is of course Wesley Close which was named after him in more recent times.
King Charles II
An early engraving representing King Charles and his companions attempting to escape across Country to the coast.
In the seventeenth century The Abbots House was an inn, patronised we are told by cavaliers and here King Charles II stayed whilst waiting for Stephen Limbry to take him to France. A ham stone chimney piece with the initials C.R. was put up after the Restoration, which was covered over with plaster sometime after 1815.
A "Wanted" poster similar to this would no doubt have been seen by Stephen Limbry`s wife after her visit to the market in Lyme Regis the same day. It was issued by Oliver Cromwell offering a reward for Charles II`s capture of £1,000.It was to make her suspicious of her husband's actions and as a consequence she was to lock him in their house so that he could not meet the King on the beach at the allotted hour.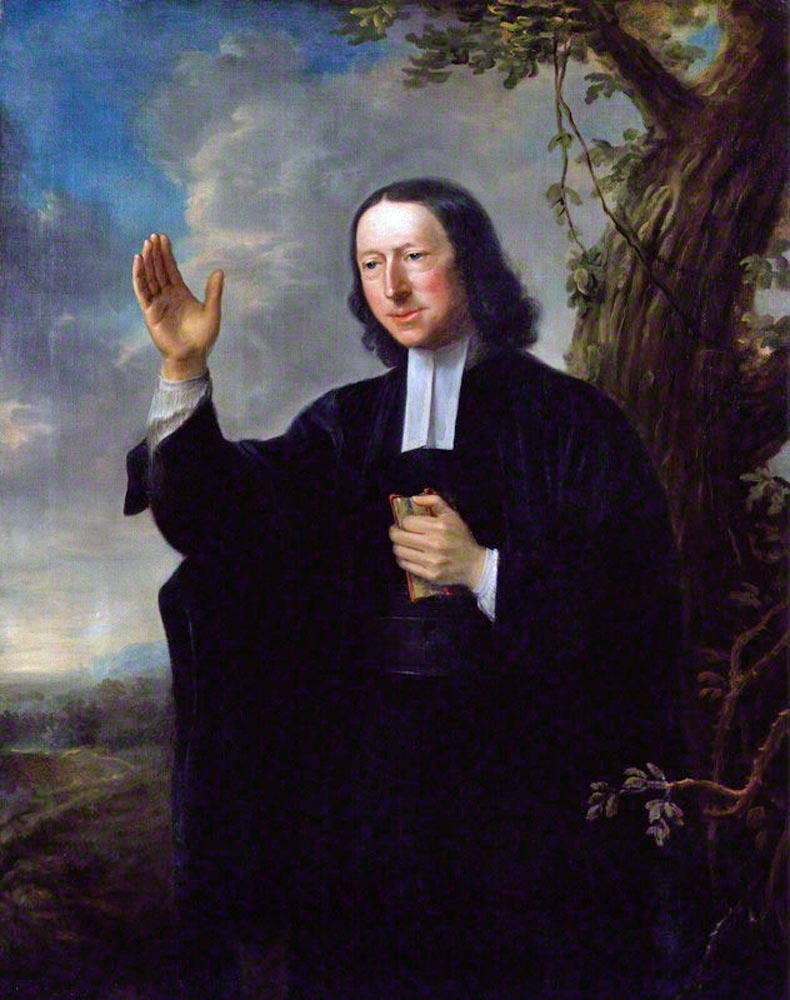 John Wesley, Grandson of Bartholomew Wesley

Bartholomew Wesley and his son, John Wesley are shown are shown in this indenture for their house sale in 1668
Stephen Lymbry purchase in 1652.
Mill View Cottages 1652-q1867
1652 W.Storme and wife to Stephen Lymbry described as Mariner
1663 Richard Bayly of Charmouth,mClothier and Bartholomew Westley and his sinner John of Bridport,mClerks. Stephen Limbry onnEast side of The Street p, 687
1668 Bartholomew sold it to Geotge Cumminge silk mercer.
1850
All 7 houses and Culmeemead had been occupied by Binstes, Restorick. Lancaster, Buckle. Collins, Lewis, Carme, Henry Cater, John Cook.
1857 rebuilt and then Coastguards
Coast guard station only used by single men, the thatch cottage on Axminster Road was the married quarters. The coast guade moved when they gave up the premises to Lower Sea Lane, which the Admiralty rented fromMr. hodges . See page 166.
Manuscript returns to the. Commissioners appointed to enquire into value of livings in Dorsetshire 1650
Charmouth, we present Bartholomew Westly, clerk, it's present possessor by sequestration and that the house,garden and orchard with 4 acres of Gleb land, arable and pasture is worth £4. That the whole tyres of this parish belong etch yo the minister and is worth £18 per annum.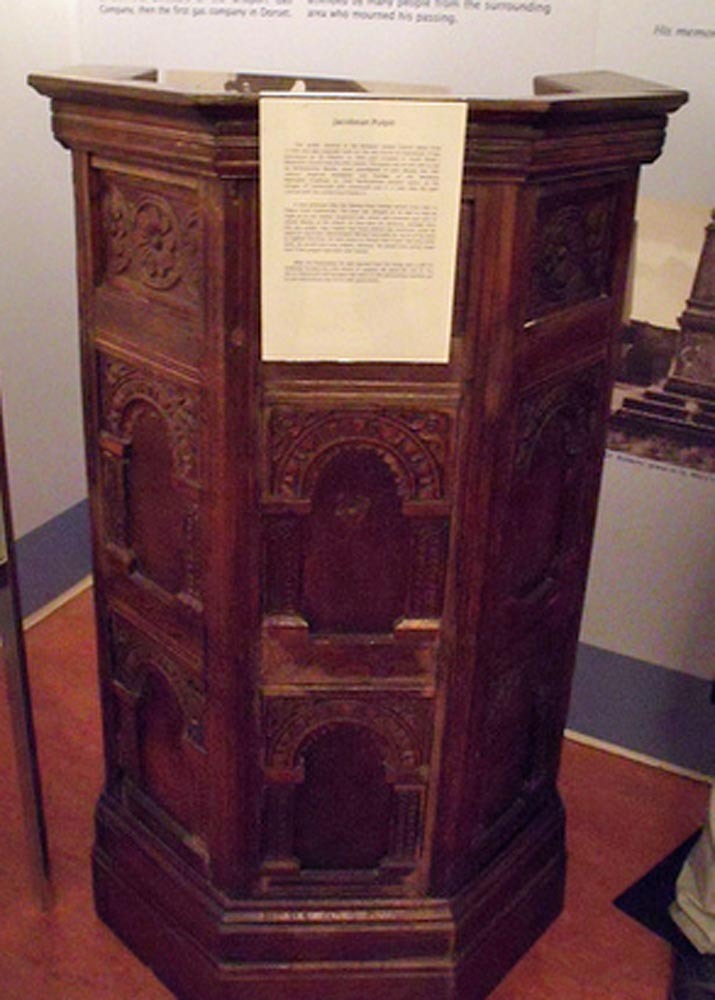 The Pulpit was in the Wesleyan Chapel, Bridport, but now in the Museum —of oak, octagonal with moulded rails and styles and three ranges of panels, the two lower with enriched arches and the top panels with rosettes etc., early 17th-century
JOHN WESLEY was born at Epworth Parsonage on June 17th, 1703. A notable ancestry links the founder of Methodism to all the stirring scenes of Nonconformist persecution and controversy during the seventeenth century. Bartholomew Wesley, his great-grandfather, was the son of Sir Herbert Wesley, of Westleigh, Devonshire, and Elizabeth de Wellesley, of Dangan, county Meath, in Ireland. He studied medicine and divinity at Oxford, the university to which his son, grandson, and three great-grandsons afterwards followed him. He married the daughter of Sir Henry Colley, of Kildare, in 1619. Nothing is known about his history till 1640, when he became Rector of Catherston, a little village in the south-west of Dorsetshire. He also held the neighbouring living of Charmouth, but both together only yielded their incumbent an income of 35 10s.
The one event of historic interest in his life is connected with the flight of Charles II. after the battle of Worcester, in September, 1651. It was arranged that Charles should cross over to France from Charmouth. The boat in which he was to reach the vessel that lay waiting for him did not come at the appointed time, so that the party had to stay all night at an inn. In the early morning one of their horses was taken to be shod. The blacksmith declared that its shoes had been made in the north of England. When the ostler said that the party of strangers had sat up all night, suspicion was aroused. The ostler ran to consult Mr. Wesley at the church, but as he was reading prayers, there was considerable delay, and Charles was gone before any measures could be taken to prevent his escape. Bartholomew Wesley made no secret of his intention to capture the King. He told a friend in jest that if ever Charles came back, he would be certain to love long prayers, because "he would have surely snapt him" if the prayers had been over earlier. An account of this scene describes Wesley as the "puny parson." The Rector of Char-mouth was therefore a little man, like all the Wesleys.
After the Restoration he was ejected from his living. This trouble fell upon him nearly six months before the general ejection on St. Bartholomew's Day, 1662. His skill in medicine, which had formerly enabled him to render signal service to his poor parishioners, now became his sole means of support. His great-grandson John Wesley inherited his love of medicine, and, as we shall see, found his skill of great service to himself and others. For some time after his ejection, Bartholomew Wesley lived quietly among his old parishioners in Charmouth. He cast in his lot with the persecuted Nonconformists, but no violence seems to have been used against a man who had won general respect by his benevolence and his blameless character. He was probably compelled to leave the district after the Five Mile Act was placed on the statute books; but we only know that he did not long survive his son, who died in 1678.
This son bore the name which afterwards became known in every corner of the kingdom—John Wesley, or Westley, as the name was spelled till Samuel Wesley, the Rector of Epworth, dropped the "t." His life forms a painful contrast to that of his illustrious grandson, but their spirit and their aims were one. The first John Wesley was born in 1636. As a schoolboy, he was under deep religious conviction. He had a diary, in which he described all the events of his outward life, as well as the workings of us own heart. This diary, which he kept almost to the :lose of his life, was entrusted by his widow to Dr. Calamy. All trace of it is now lost. It would have been no small rivilege to compare it with his grandson's famous journals.
1596-1680
He was the third son of Sir Herbert Westley of Westleigh , Devon , by his wife Elizabeth de Wellesley of Dangan , County Meath . He studied physics, [ 1 ] medicine and theology at Oxford . He lived for some time at Bridport and is known to have preached in the town's western suburb of Allington. (The pulpit which he used there is still preserved in the Wesleyan school-room at Bridport.)
He held the sequestered rectories of Charmouth (from 1640) and Catherston (from 1650), in Dorset , from both of which he was ejected in 1662. He continued to preach as a Nonconformist . He lived in Charmouth for some time where he practiced medicine and continued preaching in the West Dorset area. He was eventually forced to leave Charmouth by the Five Mile Act . He was dubbed a fanatic and a "puny parson," because of his small stature. The last years of his life were spent in seclusion at Lyme Regis where at about the age of eighty-five he died and was buried there on 15 February 1680.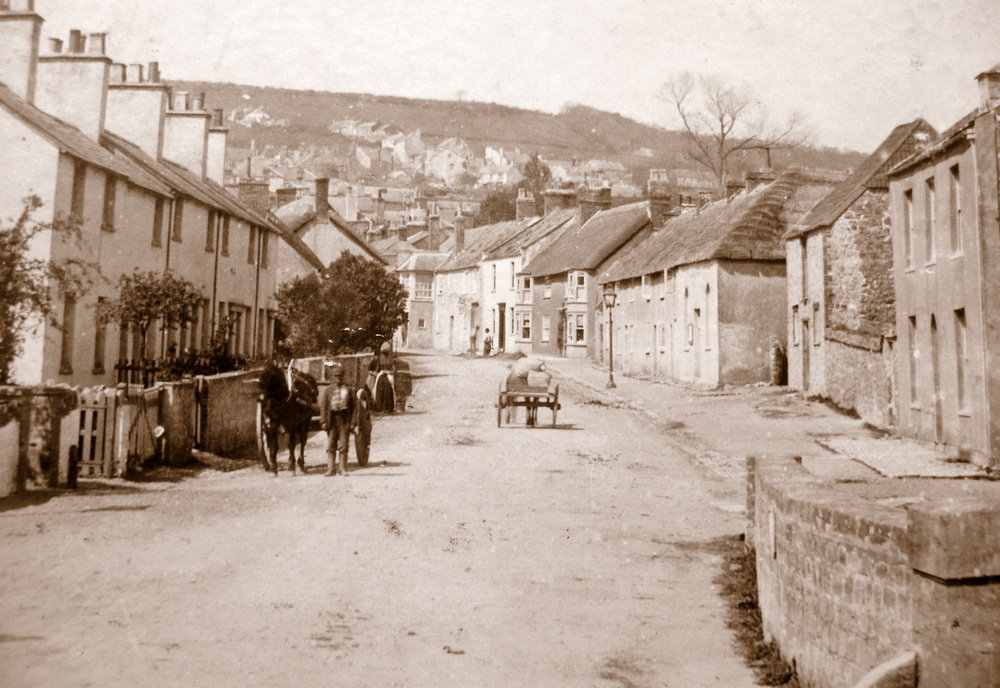 The cottages on the left of this photo that replaced the original house where Benjamin Wesley lived, which was destroyed by a fire in 1851
Bridport, on the sea coast in the western part of Dorset, is in a county intimately associated with the Wesley family. John Wesley's great-grandfather, Bartholomew, became Rector of Charmouth, six miles west of Bridport, in 1640, and in 1650, he was also appointed to the near-by living of Catherstone. He was ejected as "a Commonwealth intruder" in 1662 when the Act of Uniformity came into force. Apparently he remained in the locality, preaching occasionally, and supporting his family by the practice of physic, in which his great-grandson was so deeply interested. A local belief is that he practised partly in Bridport. PROCEKDINGS Bartholomew's son John, the grandfather of the founder of Methodism, was born about the year 1636, and in due course went to Oxford, where he became M.A. of the University. In 1658 he was appointed Vicar of Winterbourne Whitchurch, a village between Dorchester and Blandford. He married the daughter of the Rev. John White, long known as "The Patriarch of Dorchester," and a niece of the celebrated Dr. Thomas Fuller, ·who was for a time Rector of Broadwindsor near Bridport. This earlier John, like his father Bartholomew, was ejected from his livi~g in 1662. After living for a time in various places in Dorset and Somerset he found a refuge in a house at Preston near Weymouth, where he died in 1678. Samuel Wesley his son was born at Winterbourne Whitchurch in 1662, and received his early education at the Free School of Dorchester. Later he became Rector of Epworth. The Rev. E. E. S. Forrester, the present Vicar, says that Winterbourne Whitchurch is still the name of the Parish, and appears so on maps, but the local and p.a. usage is Whitechurch. Through Rev. John H. Fisher, the Vicar kindly sends us the following items from the Register of his Church. 1660. Elizabeth. the daughter of John Wesly, Vicar, was Baptised Jan. 29. 1662. Samuel Wesly. the son of John Wesly was baptized Decem ber 17. John Hutchins' great History of Dorset, written in the middle of the eighteenth century, called by the Dictionary of National Biography" this noble history," says that persons of the name of Westleigh, Westeley, and Westley had long resided in the County. Isabel Westleigh appears as the name of a nun at the famous Nunnery of Shaftesbury in preReformation days, In 1435 Prebendary John Westley was vicar of Sturminster Newton. John Westleigh was Rector of Langton-Matravers near Swanage in 1481. In the list of Bailiffs for Bridport in 1691 is the name of James Westley. It is to be remembered that the name of John Westey's great grandfather and grandfather was spelled Westley. But though the Wesley family was so closely associated with south-west Dorset, the Founder of Methodism paid little attention to this part of the country. Two references only appear in his Journal and Diary. On February 28th, 1785 he left Salisbury at 9 in the evening by Diligence. The next WESLKY HISTORICAL SOCIETY morning at 9 he had 'tea' at Bridport, and then travelled on by way of Honiton to Exeter. On February 27th, 1787, he left Salisbury by coach, had dinner at Dorchester, and travelled on to Exeter. On both these occasions he would pass through Winterbourne Whitchurch and Charmouth, as well as Bridport. In 1768 he had written to his brother Charles: "Such a thing has scarce been for these thousand years before, as a son, father, grandfather, atavus, tritavus, preaching the Gospel, nay, and the genuine Gospel, in a line. You know Mr. White, sometime chairman of the Assembly of Divines, was my grandmother's father." One wonders what his thoughts were as he passed in his old age through the two villages where his great grandfather and his grandfather had ministered, but his thoughts are unrecorded. As for Bridport, there is a tradition, referred to by Dr. J. S. Simon in his first book, Methodism in Dorset, that when Wesley was urged to preach at Bridport he replied that the Gospel was already preached there in the Parish Church, and his labours were more needed elsewhere.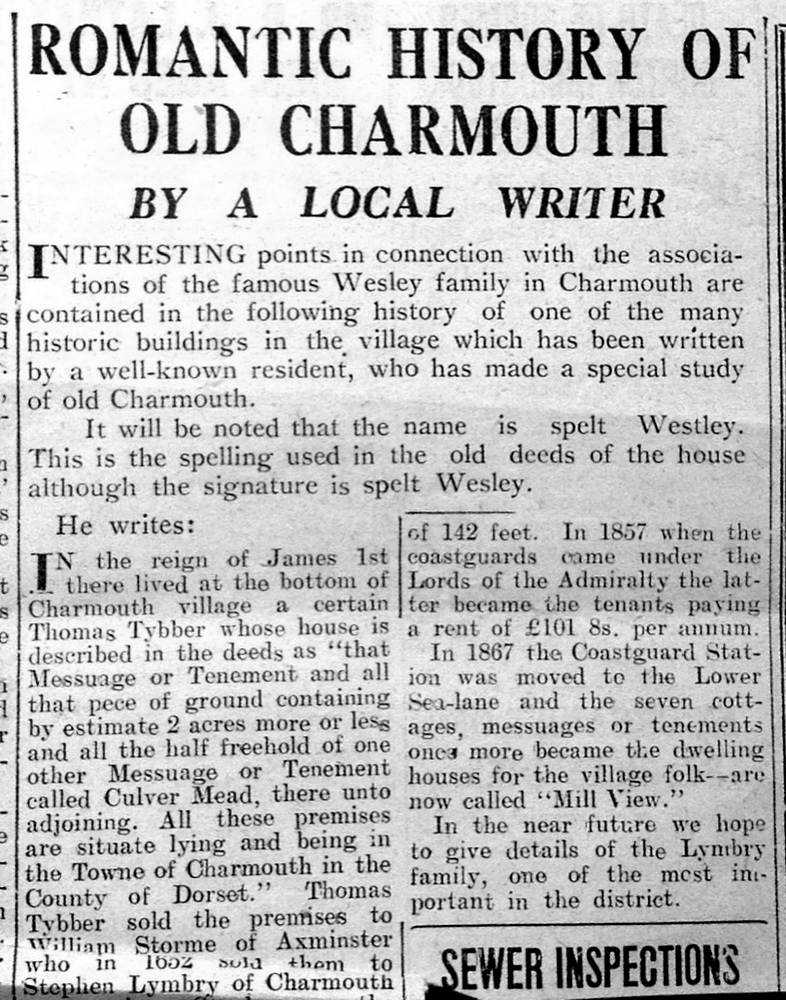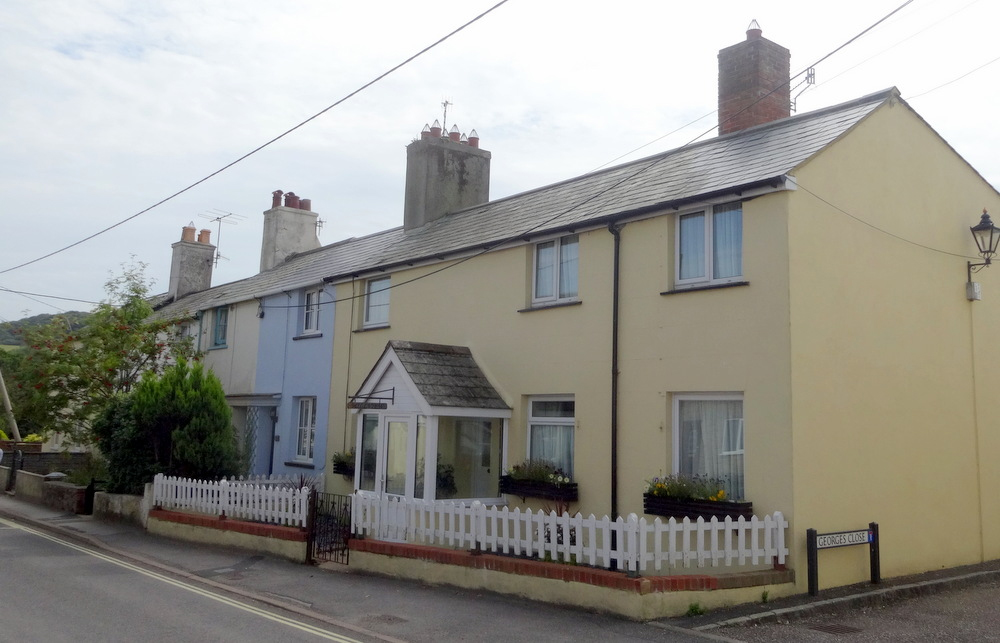 If the humorous author of the Miraculum is to be trusted, the fugitive monarch owed his preservation on the morning of September 23, 1651, to the "long-windedness" displayed by Benjamin Wesley (he gives the name as Westley), " the puny, pittiful, dwindling parson of that place," f in his family devotions, concerning which Mistress Wyndham observes with evident satisfaction that "long prayers, proceeding from a traitorous heart, once did good, but by accident only."j Benjamin Wesley was the great-grandfather of the Apostle of Methodism, and a great deal of new information both as tohimself and his immediate descendants will be found in the Proceedings of the Wesley Historical Society* Wesley was deprived of his benefice after the Restoration, and subsequently became an itinerant preacher and medical practitioner. He died at Lyme Regis, and was buried there on 1 5 February, 1 670. His widow Mary was interred there on 13 July in the following year. "While still minister at Charmouth, he was "presented" by the Jury of the Court Leet (2 October, 1654) for neglect, " causing annoyance of the highwayes."
The Lyme archives put the identity of Bartholomew Wesley, the " intrading Minister" at Charmouth in September, 1 65 1, beyond the possibility of a doubt. Bartholomew Wesley ckricus was a freeholder of the borough, and on 6 May, 1668, ordered to pay an esso-^n or fine. This is duly entered in the Liher Liberorum Burgensium, etc. John Wesley, his son (the grandfather of the Apostle of Methodism), was admitted to the freedom of the borough in 1 647. In 1 654 he was rated at 4d. and charged is. 6d. "for his Preacher's office." We find that Captn. Massey, who commanded the military forces at Lyme in September, 1651, "put half a musket charge upon the Rev: Ames Short, amounting to 17V' which the Corporation allowed their minister and lecturer. A Thomas Limbry was a freeman of Lyme in the twenty-ninth year of Henry VL According to the Cobb account books, Stephen Limbry had given up going to sea before 1653. Between 1653 and 1656 his name appears amongst those of the "importers and sellers of wine." A