St. Margaret`s Street (East Side)
The East side of St. Margaret's Street contains a number of interesting buildings spanning the centuries. To see their individual histories click on the images below. The earliest building would have been Shrapnell Houses dated by Wiltshire Building Record at c.1600, though the nearby Rialto may well have been built soon after, probably as an Inn. If one could go back further in time the area could have been a cemetery for Roman Bradford as a crude carving of 2 figures from a grave stone has been found recently in a wall in the Rialto restaurant and can be seen in the garden of 8 St. Margaret's` Street. The Street is itself ancient as it led originally to the Broad Ford and later the Bridge across the Avon. Clues to the past of the area can be found in the deeds to some of the houses. The cottage next to Saxty's (no.13) was still paying a rent until 1861 to Salisbury Cathedral who held the Bishoprick estate of Monkton Farleigh and Cumberwell. The priory was founded by Humphrey de Bohun in 1125 and amassed a large Estate up into the dissolution when it was given to the Dean and Chapter of Salisbury Cathedral. It is recorded that Sir Thomas Hungerford gave to the Priory a house and two plough lands at Bradford (W.R.O. ref. 1837/1) which may well have been this site.
The plot of land containing the Three Gables and the Millennium Garden was originally part of the considerable Estate owned by the Lisle family in Bradford on Avon granted by the Abbess of Shaftesbury to John de Lisle of the Isle of Wight (d. 1408) and was later sold in 1732 to James Miles.
Bordering on to this property was a number of houses in Bridge Street which were paying rents to the Dean and Chapter of Bristol right up to the 19th Century. They formed part of the extensive Prebend Manor originally given by King Ethelred to the Abbess of Shaftesbury in the year 1001a.d, but later granted to the Dean and Chapter of Bristol in 1543 by King Henry VIII.
As the wealth of the Clothiers increased in the town they were able to purchase or rent land from these Estates and build their fine houses. One of these -the Shrapnells were to dominate this area for over two centuries. Henry Shrapnell junior (1621-1688) originally purchased a large house(6-7 St. Margarets Street)with a substantial area of ground covering most of St. Margaret's Hill in about 1660. But when he died his son Zachariah (1662-1723) gave up his father's trade as a Cooper to become a Clothier and make his fortune. He dramatically developed the Street and the area behind it. By his death he owned 6 newly built houses and held the ground rents of £1 a year on a number of others on the site. His father's original House was completely remodeled both in and outside with a facing of Ashlar stone and 3 dormer windows. Later he built a fine Palladian House(5 St. Margarets St) adjoining it and a mansion at Midway Manor at Wingfield. At the time of his death, his will shows him living on his country estate and renting his town house to the important Clothier John Bailward who is referred to as his cousin. Another Clothier Samuel Rayner (1745-1805) is probably the builder of 11 St. Margaret's Street where John Wesley in March wrote in his Diary:
"Friday 12th, being at Samuel Raynor's in Bradford (town), I was convinced of two vulgar errors; the one, that nightingales will not live in cages; the other, that they only sing a month or two in the year. He has now three nightingales in cages, and they sing almost all day long, from November to August".
Earlier after his first visit to the town in 1739 John refers to eating with Mrs. Bailward (then living at 5 St. Margaret's Street) after an open air service at Bearfield Wesley refers to her more than once. The last time in 1788, when he says "I did not find good Mrs. Bailward there. After long struggling with a deep nervous disorder, which, for a time, depressed the mind, as well as the body, the cloud removed, her load fell off, and her spirit joyfully returned to God." She left £80 for the support of the Bradford preacher. The Bailwards are founder members of the Quaker Meeting House which is built on the opposite side of the Street in what is today St. Margaret's Car park next to West bury House. Another Non Conformist Chapel has an even earlier history when in on the 30th September 1673 the barn of John Broome John of Bradford in Wilts' was licensed for Baptist worship. By 1689 it was Jacob Silby and Richard Godby who were to lease land from Zachary Shrapnell as a site for the first meeting house (now the Old Baptist Chapel, St. Margaret's Street).
This side of the Street had two Inns, both long since gone. Next to what is now the Three Gables (no. 1 St, Margaret's Street) an Inn known as the Queen's Head formerly stood until it was demolished with Bush's workshops to form a garden by the Council in 1913.
Another hostelry was the French Horn (now the Rialto) which had earlier been called The plume of Feathers Inn in the 18th century. By 1868 the same property is being auctioned and is occupied by Mr. Thomas Smart, Grocer and Tallow Chandler, Nearby was James Duck the Baker at what is today Backhouse (no. 12a St. Margaret's St). Bindings the Electrical Shop was founded in 1930 by the Rossiters, it had previously been one house originally built by Isaac Batten in 1826 replacing 3 earlier gabled cottages. The building now housing Saxty`s the Estate Agents was originally built for Joseph Baines a Surgeon and was later owned by the Beavans who were solicitors.
1837 Ashmead Map & 1841 Tithe MapMap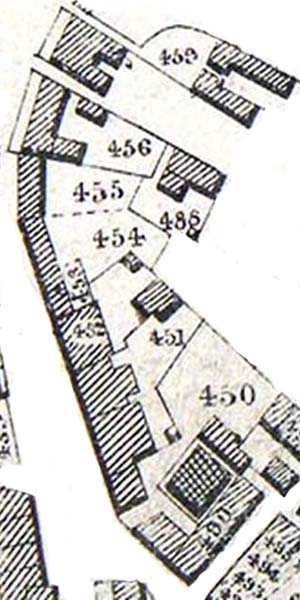 1841 Tithe Map & 1862 Ashmead Map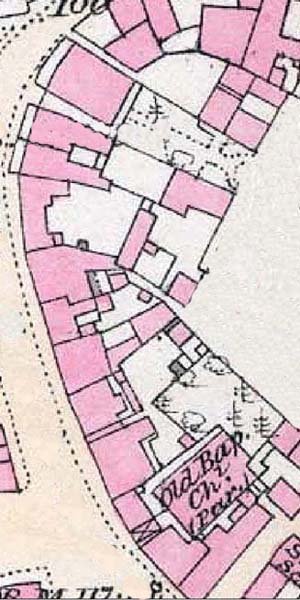 1885 Ordnance Survey Map & 1926 O/S. Map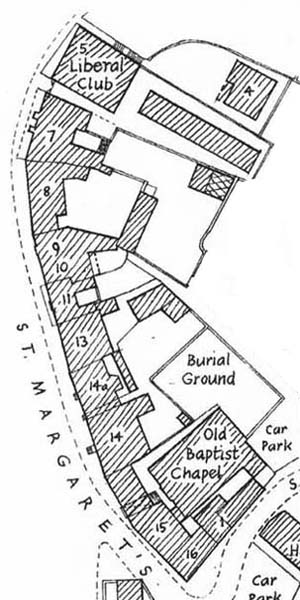 1926 Map and the area today, by Gareth Slater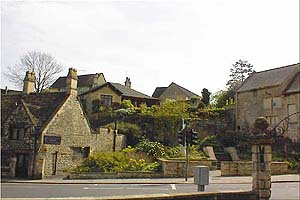 3 Gables ,(Empty) 1,2,3St. Margaret`s Street & Millenium Gardens/ Bungalow(Residential) 4 St. Margaret`s Street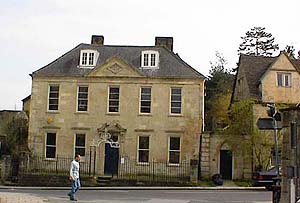 OdourNet,(Offices) 5 St. Margaret`s Street & Shrapnell House(Residential) 6,7 St. Margaret`s Street
Bindings, (Shop & Residential)8 St. Margaret`s Street & Rialto, (Restaurant)9,10 St. Margaret`s Street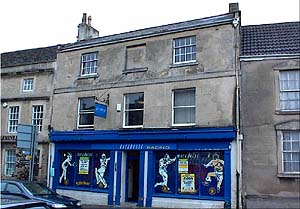 Dove, (Offices)11 St. Margaret`s Street & Backhouse, (Book Makers)12a St. Margaret`s Street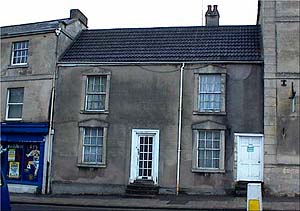 Cottage13/14a St. Margaret`s St. & Geoffrey Saxty (Estate Agent/flats)14a St. Margaret`s Street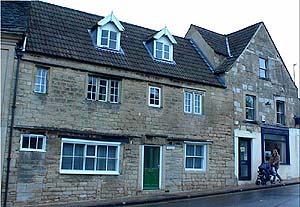 Baptist Chapel (rear of cottage)14b St. Margaret`s Street & Cottage & Shop15,16 St. Margaret`s Street.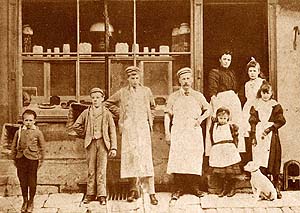 Burgess (Bakers), 12a St. Margarets Street & 15/16 St. Margarets Street c.1900